"Creating a Healthier World by Addressing Social Determinants of Health"
Featured Speaker: Claire Pomeroy, M.D., President, Albert and Mary Lasker Foundation
November 6, 2019
Noon until 1 p.m.
Boxed lunch served at 11:15 a.m.
Lewis Auditorium, UCF College of Medicine, 6850 Lake Nona Blvd., Orlando, 32827
CME credits available for physicians.*
Meet Dr. Claire Pomeroy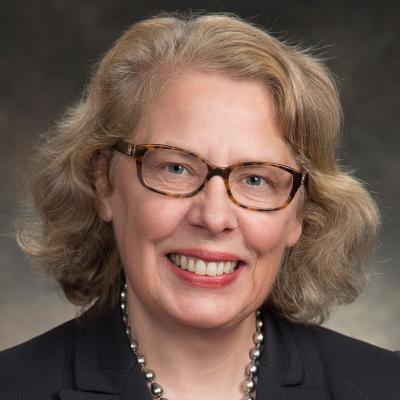 Claire Pomeroy, M.D. is president of the Albert and Mary Lasker Foundation, responsible for overseeing programs that advance the Foundation's mission to "foster the prevention and treatment of disease and disability by honoring excellence in basic and clinical science, and through public education and research advocacy."
An infectious disease expert, Dr. Pomeroy is a nationally recognized advocate for public health and patients, especially those with HIV/AIDS. Her focus is on the social determinants of health. She has authored more than 100 articles and book chapters and has edited three books.
Dr. Pomeroy is chair of the board of directors for the Association of Academic Health Centers, immediate past chair of the Council of Deans of the Association of American Medical Colleges, and was recently appointed to the board of trustees for Morehouse School of Medicine. She was inducted into the National Academy of Medicine in 2011.
Dr. Pomeroy earned her undergraduate and M.D. degrees from the University of Michigan and completed her residency and fellowship training in internal medicine and infectious diseases at the University of Minnesota. She earned an M.B.A. from the University of Kentucky.
She has held faculty positions at the University of Minnesota, University of Kentucky and the University of California Davis, where she is currently professor emerita. Dr. Pomeroy was chief of infectious diseases and associate dean for research and informatics at the University of Kentucky. At UC Davis, she served as executive associate dean and in 2005 was appointed vice chancellor and dean.
She became president of the Albert and Mary Lasker Foundation in June, 2013. The foundation works to increase support for biomedical research by celebrating the power of such research to save and improve human lives. For 74 years, the foundation's internationally recognized Lasker Awards have honored medical and scientific leaders whose work made major advances is treating, diagnosing, understanding, curing and preventing human disease. Eighty-eight Lasker honorees have also received the Nobel Prize, including 39 in the last 30 years.
The foundation is fueled by founder Mary Lasker's call to action: "If you think research is expensive, try disease."