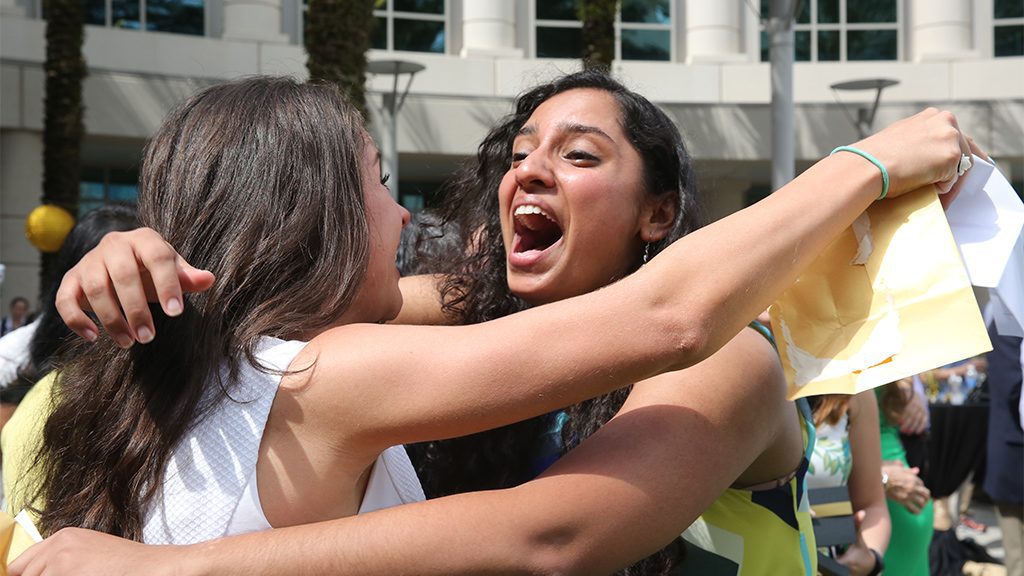 In honor of the UCF College of Medicine Class of 2018, we challenge you, our M.D. alumni, volunteer faculty and friends, to collectively make 120 donations – one for each member of the graduating class.
Match Day is March 16. Match Day is one of the most important days for medical students. It represents the beginning of their transition to resident physicians following graduation from medical school. Match results are kept secret nationwide until the third Friday in March at noon EST.

Between now and March 16, please consider making a gift to the UCF M.D. General Scholarship fund. Small gifts make a big impact, and ALL gifts make a difference.
We invite those that participate in our Match Day Challenge to join Dr. Deborah C. German, vice president for medical affairs and dean, as she celebrates the match results with students, faculty and staff, at a reception at the College of Medicine in Lake Nona at noon on Friday, March 16.
Share your own Match Day memories or words of wisdom with us. We will post your comments to our social media pages and share them at the Match Day celebration.
Thank you for supporting our future Knight physicians!
If you have any questions or concerns, please contact Erin Oglethorpe.
Has the UCF College of Medicine Positively Impacted You?
The UCF College of Medicine is a research-based medical school with a culture based on partnerships and collaboration. As a founding member of Orlando's Medical City we are proud to be your community medical college.
Find out how to give back to your medical school, today!