Meet the Class of 2019
Meet the UCF M.D. Class of 2019
UCF received a record 4,875 verified applicants for this year's class – more than even 2009 (4,307) when it offered full scholarships to the entire charter class
This is the medical school's third full class at full enrollment. The entire college will be at full enrollment (480) in 2016-17
This year's class has the most UCF undergraduates to date – 24. This is the first class where UCF undergraduates outnumber graduates from any other Florida state university
The students' alma maters include John Hopkins, Harvard, Yale, Duke, Notre Dame, Vanderbilt, UCLA, USC, Case, Auburn, Northwestern, Boston University and Emory
The class has four military veterans, 2 Ph.D./J.D. and 14 students with Masters degrees. The class is 65 females and 56 males
This year's class is fluent in 30 languages besides English
Michael Garcia
The new UCF College of Medicine student is leveraging fundamentals learned on the playing field into a medical career to help people.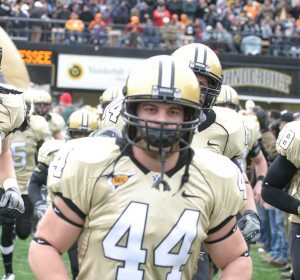 "If my life were a concerto, it would have the themes of curiosity and compassion with sports on the percussion."
As linebacker on the Vanderbilt University football team, Michael Garcia learned lessons on the gridiron that instilled in him the benefits of discipline, hard work and organization — traits he believes will serve him well as he enters the UCF College of Medicine."If my life were a concerto, it would have the themes of curiosity and compassion with sports on the percussion," Garcia wrote in his medical school application. "It may be uncommon to prepare for a career in medicine by playing football … although the orthopedic experiences alone were lessons in anatomy and function."
The son of an OB-GYN, Garcia says he has wanted to be a doctor since childhood. As a young man he loved science, biology and animals, and was fascinated by creatures like the lizards that he found in his backyard. But his greatest inspiration was his father, who had forgone a career in professional football and baseball to become a doctor. "When I saw how positively he affects people's lives, I wanted to follow in his footsteps," says Garcia.
As a student-athlete, the demands of sports and academics shaped Garcia's daily routine: Morning rehabilitation and weightlifting at 6 or 7 a.m., class until the early afternoon followed by football film study; practice at 4 p.m. followed by dinner and studying. He suffered a nearly career-ending knee injury, followed by multiple surgeries and nine months of grueling rehabilitation. "It taught me balance and being organized," he says. "If you get behind you can really, really be hurting."
During his junior and senior years he also fit in time in the laboratory, conducting research to map how the brain interprets and responds to sound. Garcia says he's always been interested in the brain – "and as a linebacker, I've sure taken a lot of blows to the head." He also worked as a research technician at Massachusetts General Hospital's cardiac surgical lab. And his decision to attend UCF's young medical school was influenced heavily by founding dean Dr. Deborah German's story, attitude and vision. During his campus visit interview, he also liked the college's welcoming and inclusionary culture, its openness and its commitment to student success.
Amy Huang
Using film to tell the story of young woman's struggle with obesity helped the incoming UCF College of Medicine student add a powerful human context to her biology research.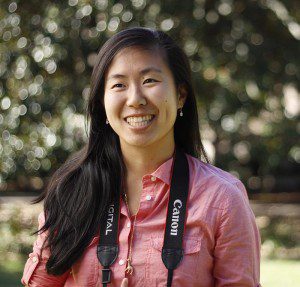 "I like UCF's ambition. It has a great idea of where it's going in the future."
For Amy Huang, obesity is more than statistics and terms such as "epidemic." It's about individual struggles, painful self-image and family dynamics — topics that the incoming UCF medical student explored in a documentary she created during her undergraduate education at Duke University. As a biology major, Huang says her primary focus had to be on science, but she's also an artist who uses drawing, painting and filmmaking as a way to stay in touch with her creative side and add greater context and meaning her desire to study medicine. The film about an 11-year-old girl fighting to overcome obesity — the same condition her mother has struggled with — was featured in a Huffington Post article, "Stop Typecasting Overweight Kids." Producing the documentary allowed Huang to give a face to the challenges that a lot of Americans are facing. "I was able to work so closely with this young woman, to see how her struggle was so personal," she says.
For the project Huang worked with Duke's Healthy Lifestyle Program, which offers support for overweight children and their families, including lessons on healthy eating and family fitness. She says the most "haunting" lesson from her filmmaking was learning what participants liked best about the program. It wasn't the free, fun and convenient activities. "The best thing about the program was that they were working out with kids who looked like them," she said, rather than feeling like the only overweight child in a gym full of thin, fit children. "It was about inclusion."
The documentary offered Huang an intensely personal look at obesity. Allison, the film's young subject, shared with the filmmaker the pain of buying clothes and not being able to fit into the "cute" fashions that her thin contemporaries wear. And she talked about the self-doubt and the teasing that overweight children must endure from other youngsters. Allison gives advice in the film: "If you see someone is overweight, they're still a person. It's not like they're a different species. People who are overweight want to be regular sized." Allison's mother, who had gastric bypass surgery several years ago because of her weight, talked about not wanting her daughter to have the same painful experiences she had faced and her wish for Allison to learn better eating and coping habits earlier in life.
In addition to her filmmaking, Huang also has volunteered at a cancer resource center and nursing home in Durham, N.C., and tutored young African girls in Kenya as part of a program dedicated to empowering underprivileged young women through education and health. She says she chose UCF for medical school because its friendly, supportive atmosphere reminded her of Duke. "I like UCF's ambition," she explains. "It has a great idea of where it's going in the future."
Ahmed Lababidi
The new UCF College of Medicine student is translating his experiences feeding Syrian refugees in Lebanon to the M.D. program.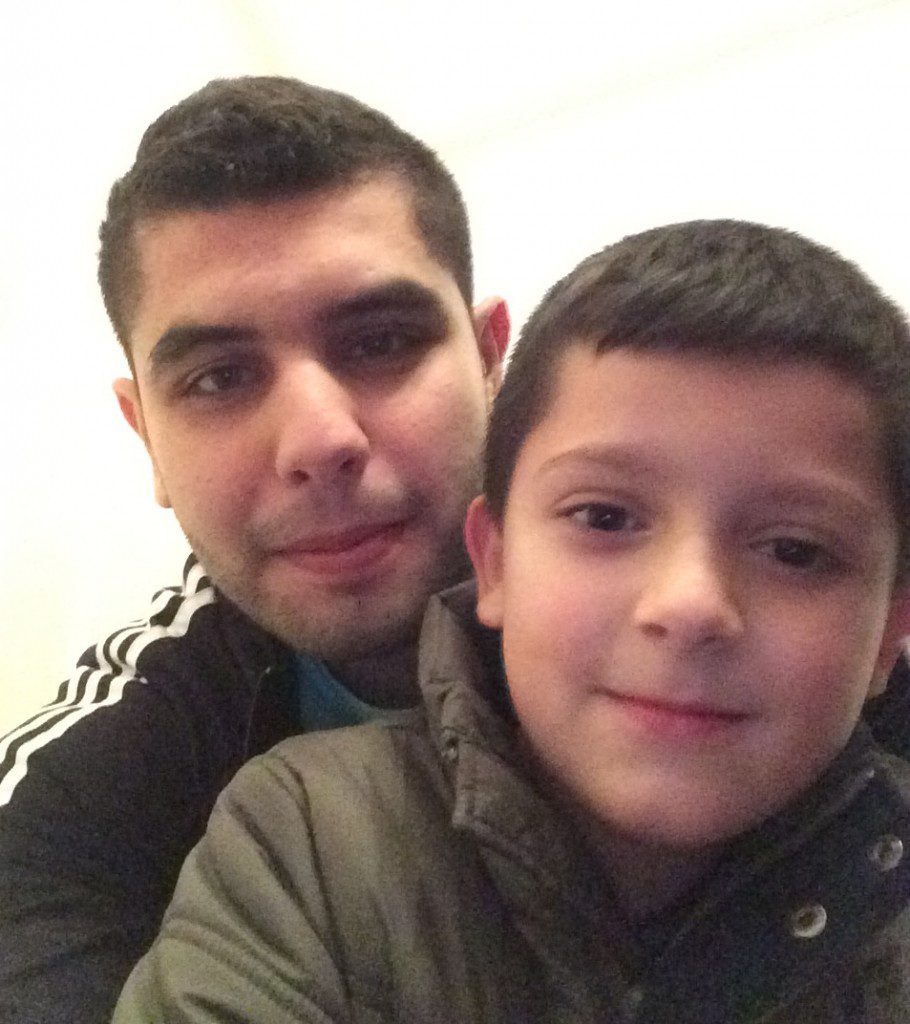 "[Helping Syrian refugees in Lebanon] taught me I have a responsibility to touch people, to treat and serve all of mankind."
Ahmed Lababidi wasn't prepared for what he saw when he visited family members in Lebanon in 2013. More than a million Syrian refugees were fleeing their country's civil war and pouring into the Middle Eastern country. The New York native says he couldn't simply stand by and do nothing as he watched families — especially children — jammed into refugee camps with little more than what was on their backs. Local relief agencies were overwhelmed with basic refugee needs; food was scarce.
So for two months that summer, he gathered leftover food from Beirut restaurants, packed it in his car, and delivered the nourishment to 24 families who had been displaced from their war-torn homeland. He says that many of the adult refugees, who had once held jobs and cared for their families, were ashamed to ask for help. Some fathers even committed suicide in their despair from seeing their children and wives go hungry. When Lababidi pulled into a local park to distribute the food, families sent their children to take it."The children would hold the food in their arms and then run to their mothers," he says. "It was as if you took your son or daughter to Toys R Us and they ran excited to the car with their new toy, unable to wait until they could get home and play with it."
The experience helping refugees earned Lababidi valuable lessons in compassion, leadership and humility. "It taught me I have a responsibility to touch people, to treat and serve all of mankind," he said. "Helping 24 families — 100 people — out of a million refugees may not be a big number. But I have a duty to do what I can to help."
In addition to his volunteer effort with Syrian refugees, Lababidi also has worked with child cancer patients and their families at St. Jude Research Hospital of Lebanon and has published research about Insulin Growth Factory 1 gene therapy.
After earning his biology degree from the University of Cincinnati, Lababidi interviewed at nine medical schools and was accepted into eight. He says a variety of factors made UCF the best choice. He was impressed with the medical school's outstanding residency match results (97 percent) and was inspired by meeting founding dean Dr. Deborah German. He says he found the medical school warm, inclusive and welcoming.
"Everyone made me feel like they wanted me to be part of at UCF," says Lababidi.
Arron Smith
This veteran of Operation Iraqi Freedom is using his battle-honed medic skills to embark on the new mission of becoming a doctor at the UCF College of Medicine.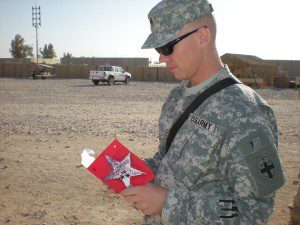 "I think I'll have a good rapport, a connection [with patients who are veterans]. I know there are things a vet won't share with anyone else unless they've been in combat."
As a U.S. Army combat medic in Iraq, Arron Smith trained to make quick decisions to care for his fellow soldiers on the battlefield. He earned the Army Commendation Medal for meritorious service during his deployment for Operation Iraqi freedom, then received his nursing degree from UCF and worked for eight years as an orthopedic nurse at Orlando Health before deciding to enroll in medical school. Smith, who says he ultimately hopes to return to the military as an Army physician, is one of four military veterans in the College of Medicine class of 2019.During his one-year deployment in Iraq, Smith was the Assistant Non-Commissioned Officer in Charge of the Specialty Clinic, where he oversaw 12 soldiers who provided care to their colleagues. He staffed eight different clinics and worked closely with physicians and surgeons at those facilities. He says one of those physicians, an Army doctor from Nebraska, encouraged him to go to medical school. He believes his military background has prepared him to stay calm in emergencies, think quickly on his feet, and appreciate firsthand what veterans have given to America. He hopes that understanding will help him connect with veterans during his clerkships. All UCF medical students spend time during their training at Florida VA hospitals in Orlando and St. Petersburg. "I think I'll have a good rapport, a connection," he says. "I know there are things a vet won't share with anyone else unless they've been in combat."
Smith also believes that he has a real-world understanding of the challenges of medical school. You could say he's lived through the first year already. Smith's wife, Melissa, who served as an Army nurse before coming to UCF, is a rising second-year student at UCF's College of Medicine. The couple met while serving in Iraq.