UCF Day of Giving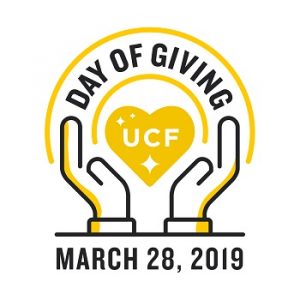 UCF Day of Giving is right around the corner! Mark your calendar — March 28 is the BIG day of impact. Together we'll make a huge difference in a short time — because, on UCF Day of Giving, every gift makes an even bigger impact. Click here to support UCF.
During this 24-hour event, your gift will help unlock $50,000 in challenge gifts — and help UCF reach the goal of 3,000 donors.
Make a gift on March 28 to the UCF causes you to care about, and you'll help unlock thousands of dollars in extra support for UCF. For every 1,000 donors, more dollars are at stake — culminating in $25,000 of additional support when the UCF community reaches 3,000 donors. UCF Day of Giving is a can't-miss opportunity to make your donation go even further!
Every donor makes a difference, and your gift will help UCF transform lives through the power of philanthropy.
GET INVOLVED | Become an ambassador for UCF Day of Giving! Ambassadors help spread awareness, serve as representatives and endorse UCF Day of Giving by sharing campaign content on their social media, sending emails or making calls and texts to their UCF network. | SIGN UP
FACULTY AND STAFF | As a faculty or staff member, there are many ways to get involved and support UCF on Day of Giving. | LEARN MORE
QUESTIONS? | Visit our frequently asked questions.