Dean's Aesculapian Society
The Dean's Aesculapian Society is a special group of people who demonstrate strong dedication and support of the College of Medicine through their personal involvement and annual contributions to the Dean's Fund for Medical Excellence. Aesculapians participate in the life of the College as true insiders, receiving invitations to special lectures and tours, as well as Aesculapian-only events.
Letter From the Dean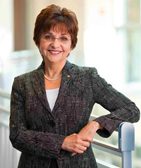 Dear friend,
Allow me to personally invite you to join a select group of supporters, including scientists, physicians and community leaders, known as the Dean's Aesculapian Society.
This signature society will provide you with a rare insider's view into the education of a physician. You will be among the first to tour and experience our new facilities and programs. As my guest, you will have the opportunity to interact with other Aesculapians who share your passion for excellence in medical education, research and patient care.
Please consider joining the Dean's Aesculapian Society today. I am sure you will find the society to be both stimulating and rewarding.
See you at the next Aesculapian event.
Deborah C. German, M.D.
Vice President for Medical Affairs
Dean, UCF College of Medicine
Take a look at our Aesculapian Society brochure to gain insight into this rare opportunity. Also, we have available our Aesculapian Society pledge form for your convenience.
Aesculapian Society Benefits
AESCULAPIAN
GOLD AESCULAPIAN
GOLD AESCULAPIAN
$1,000
$2,500
$10,000+
Listing in College
of Medicine Annual
Report
Listing in College
of Medicine Annual
Report
Listing in College
of Medicine Annual
Report
Dean's Aesculapian
Society Pin
Dean's Aesculapian
Society Pin
Dean's Circle Pin
Dean's Aesculapian
Newsletter
Dean's Aesculapian
Newsletter
Dean's Aesculapian
Newsletter
Invitations to College
of Medicine Events
Invitations to College
of Medicine Events
Invitations to College
of Medicine Events
State of the College
Luncheon
State of the College
Luncheon
State of the College
Luncheon
Preferred Seating at
Special Events
Preferred Seating at
Special Events
Organ Recital
Organ Recital
Invitation-only Tour
of Clinical Skills &
Simulation Center
Invitation-Only Tour
of Selected College
of Medicine Facilities