Hispanic Heritage Month 2021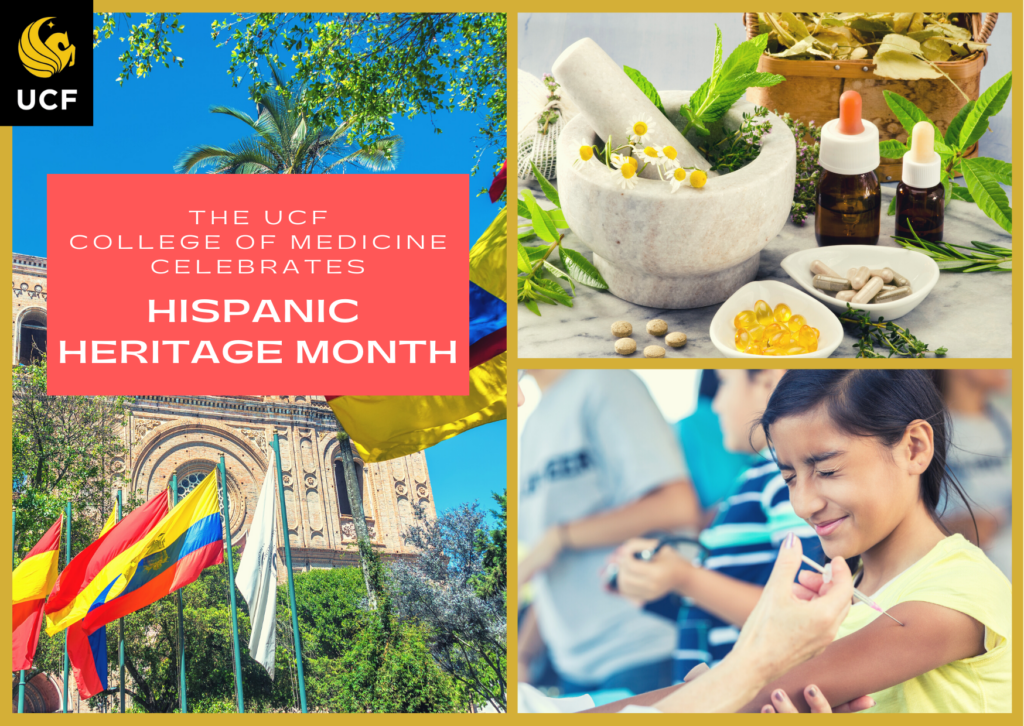 PRESENTED BY
THE LATINO MEDICAL STUDENT ASSOCIATION AT UCF COM


Spanish Lunch Hour After Dark: Celebrating Diversity in Hispanic Heritage through Language
September 22 – 5:00pm-6:15pm
Zoom
Come and kick off Hispanic Heritage Month with a special edition of Spanish Lunch Hour! Join COM students and Dr. Lauren Hetrovicz, Assistant Professor of Spanish Linguistics at UCF, for an in-depth discussion on how diversity within Hispanic heritage is reflected in the Spanish language.  Register here.

See Our Medicine Series: Understanding Heritage, History, & Health through Hispanic Experiences
September 29 – 5:00pm-6:00pm
Zoom
Facilitated by the Latino Medical Student Association at UCF COM, engage with clinicians Dr. Yaritza Arriaga, Dr. Vanessa Diaz, and Dr. Enrique Serrano as they examine the various subcultures of the Hispanic and Latinx communities and how they have influenced experiences with Western medicine, treatments, and therapies. Register here.

LatinxMedx: Inspiring Stories of Hispanic and LatinX Medical Students
October 6 – 12:00pm-1:00pm
Zoom
Joined by two M1 students from the UCF COM, Max Abundez-Toledo, a UCLA medical student, will share his experience as an undocumented immigrant and DACA recipient. Register here.

Population Health & Hispanic Heritage
October 14 – 5:00pm-6:00pm
Zoom
An exploration of how Hispanic and Latinx cultures and values intersect with public health and social determinants of health. Facilitated by the Latino Medical Student Association at UCF COM, this panel of physicians will include Dr. Eida Castro from the Ponce Health Sciences University in Puerto Rico, Dr. Bernardo Ramirez from the UCF School of Global Health Management and Informatics, and Dr. Analia Castiglioni, board-certified Internist with over 15 years of experience as a Clinician-Educator. Register here.