NW Diversity Learning Series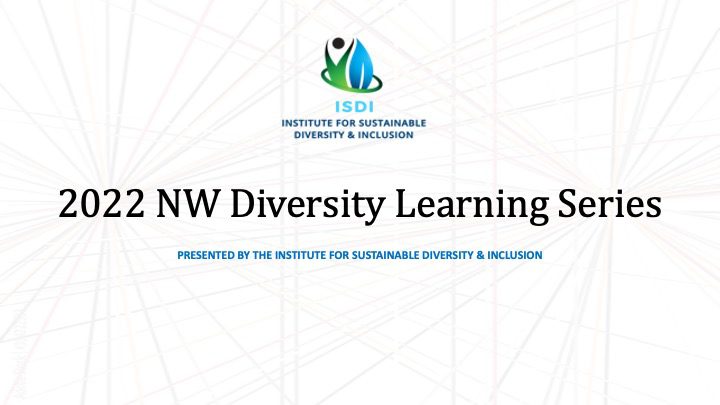 The purpose of the NW Diversity Learning Series is to leverage the value of education and strategy on diversity, inclusion, equity and accessibility (DEIA) in support of employers' organizational goals. Each annual Series is comprised of six, bi-monthly 2-hour, WEBINAR SESSIONS (12:00 pm to 2:00 pm); each workshop focuses on a specific topic using interactive/experiential learning methods. Employees, managers, and leaders join together to learn about emerging issues and best practices for creating inclusive organizational work environments and teams.

We invite you to join us for an upcoming session of the NW Diversity Learning Series. Please express your interest to UCFCOMDiversity@ucf.edu. Space is limited.

Session 1: Fact or Fiction: Learning How to Challenge Lip Service & DEI Data
Thursday, January 27, 2022
Data and statistics (the analytics) have been used by organizations to justify (or not) their DEI efforts, including such practices as recruiting, hiring and promotions. For years, organizations have crafted a "Business Case for diversity and inclusion" to justify programs and efforts to increase women and people of color. Yet, here we are years later and the dial has barely moved. This session will examine the data traditionally used for DEI and ask the question: Is it just B.S.? Has it made a difference? We will explore whether we have the right data, the wrong data, or no data at all, and what the implications of those are. If you don't gather the data, you don't know what you don't know. If you gather data and find an issue, you have a duty to act.

Presenters: Jevin West and Carl Bergstrom, UW professors and authors of the book, Calling Bullshit: The Art of Skepticism in a Data-Driven World.
Session 2: Accountability Is More Than a Hashtag: What Have You Actually Done?
Thursday, March 24, 2022
#Blacklivesmatter, #MeToo, #Missing women, #AAPIHate. We all know the hashtags! We know that many companies and organizations have made or reaffirmed their commitments to fairness and equity, and stated their intentions publicly. For example:
removing bias to achieve racial equity in hiring, evaluation, and promotion processes;
providing anti-bias training and racial equity education for employees;
supporting a community of Black professionals; and
amplifying the voices and experiences of Black employees and customers.
What is the nature of these commitments and intentions? Are they lip service or hard-core commitments that actually bring about systemic change? In this session, we will go beyond the hashtags and dig into the data and the results—to see whether progress has been made. In the process, we will discover if we have B.S. or whether some actions are substantively changing lives.
Session 3: Untold Stories: Surmounting the Disinformation of Native American Legacies
Wednesday, May 25, 2022
Where are Native Americans in DEI change frameworks? Indigenous people, Native Americans, American Indians, have not had the same presence in organizational DEI efforts as other groups. Many reasons may account for this omission, such as:
Wide-ranging disinformation taught to white people about the history of how this land, now known as the United States of America, came to be considered "ours", the white people's.
Destruction of in-tact tribal communities by the U.S. Government (and other entities)
Failure of history to tell the true story of Native Americans response to the colonization of their land, from cooperation to indignation to revolt.
This session is designed to counter the B.S. associated with indigenous people of this land, and instead, to instill an understanding and appreciation of its original occupants, and their contributions to the country. We will seek out current practices where companies and organizations are making progress in recognizing and including Native Americans in their DEI efforts.
Session 4:  Environmental Justice: Uncovering Deadly Outcomes Hidden in the Land, Water, & Air
Wednesday, June 29, 2022
"Race and class still matter and map closely with pollution, unequal protection, and vulnerability. Today, zip code is still the most potent predictor of an individual's health and well-being. Still, too many people and communities have the 'wrong complexion for protection.'"—Robert Bullard, considered the "Father" of Environmental Justice.
"The concept of the inclusive workplace refers to a work organization that accepts and utilizes the diversity of its workforce—while also being active in the community and in the state and federal programs that support immigrants, women, the working poor and other disadvantaged groups—and that collaborates across cultural and national boundaries. —Michàlle E. Mor Barak, "The Inclusive Workplace Model."
Environmental issues create structural inequities that disproportionately affect people of color, people at lower socio-economic levels, and women. Often, employees and their families of some of our largest organizations are more directly affected by environmental issues—such as air, water and land pollution, unsafe drinking water, inadequate access to healthcare and transportation, food deserts, unsafe homes, and lack of proper heat in cold weather. Disparate impacts are well documented in higher levels of health conditions, notably asthma, diabetes, cancer and heart disease. The goal of this session is to delve into misinformation and dis-information regarding environmental racism, sexism and classism. We will seek to provide capabilities to integrate racial, economic, environmental and social justice considerations into corporate social responsibility requirements.
Session 5: LGBTQIA+ AND Equity: Bringing One's Whole Self to the Team
Thursday, September 29, 2022
The LGBTQIA+ community was under attack by the last presidential administration, which sought to restrict their rights. There were some deadly outcomes: in 2020, for example, 37 transgender or gender-nonconforming people were violently killed in the U.S.—the deadliest year ever recorded for this population group. Black transgender women were particularly targeted with "dehumanizing acts of physical and sexual violence." In addition, research shows that some segments of the LGBTQ community "are more vulnerable to suffering from chronic health conditions, see higher prevalence and earlier onset of disabilities, and experience higher rates of illness and health challenges related to HIV/AIDS, substance use, mental illness, and sexual and physical violence." —"Improving the Lives and Rights of LGBTQ People in America: A Road Map for the Biden Administration, Center for American Progress, January 12, 2021.
The goal of this session is to show how deceptive information is being applied to LGBTQIA+ community, its effect in the workplace, and how we can help ensure fair treatment of this community. We want Series participants to know how to challenge disrespectful and misleading information and how to be an ally in creating an inclusive environment where LGBTQIA+ people can bring their whole selves to the team.
Session 6: Courageous Conversations with Our Future Co-workers
Thursday, November 10, 2022
As we traverse the second decade of the 21st century, the conversation about race and racism in America is taking center stage as changing demographics (including the "browning of America," and the rise of mixed-race identities) and consequential power dynamics create this shift. Key drivers of this shift include the:
Waning influence of the large Baby Boomer population giving way to the vocal perspectives of the Millennial and Gen Z generations
Growing intersection of remote work arrangements created by the COVID pandemic, which pose challenges to building effective workplace relationships
Increasing polarization of the population into distinct tribes and groups based on mindsets and political perspectives
Co-opting of theories such as Critical Race Theory by white nationals, which galvanizes opposition to diversity and inclusion
This session will illuminate the misinformation and the dis-information associated with race and racism. The lessons will be informed by the theory of "Polarity Thinking" —the use of "both/and" rather than "either/or." Too often conversations about race and racism fall into the trap of either/or thinking— us vs. them, good vs. bad, right vs. wrong, black vs. white.
This session will equip us with tools for having more courageous conversations about inclusion with our future co-workers.
*The U.S. Census Bureau uses the Diversity Index to measure the probability that two people chosen at random will be from different racial and ethnic groups; that Index rose to 61.1% in 2020, up from 54.9 in 2010; there are now 10 states in the U.S. with high Diversity Indexes, from 75.1 (Hawaii) to 58.8 (Georgia); seven states now have Diversity Indexes of 60.2 and above (California, Nevada, Maryland, District of Columbia, Texas, New Jersey, and New York). The Census also captured the Two or More races (Multiracial) population at 10.2% of the total U.S. populations; a 275.7% increase from 2010.