NW Diversity Learning Series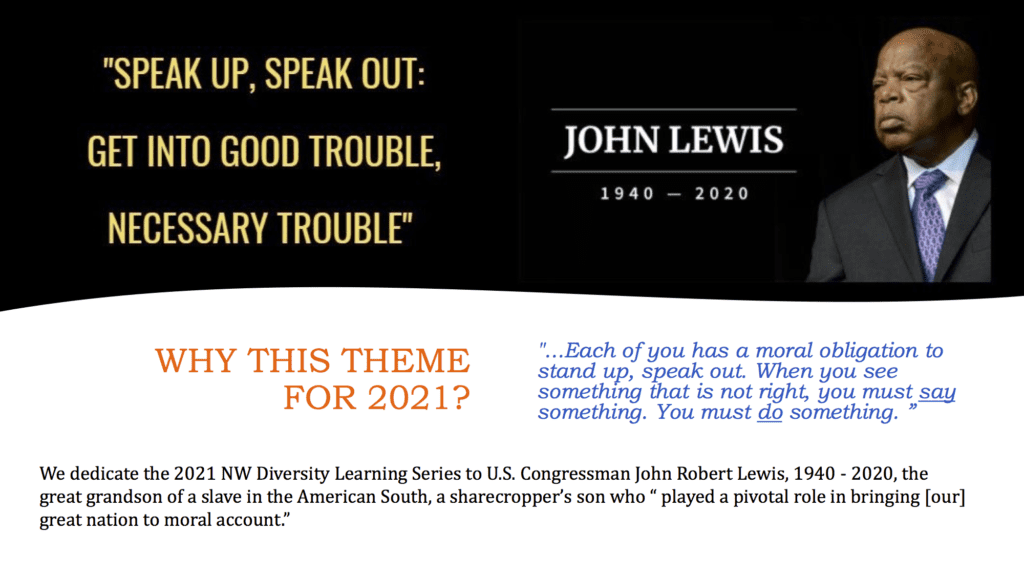 The NW Diversity Learning Series will be held virtually with six, bi-monthly 2-hour, WEBINAR SESSIONS (12:00 pm to 2:00 pm). Employees, managers, and leaders join together to learn about emerging issues and best practices for creating inclusive organizational work environments and teams. The 2021 virtual series will:

1. Dig into the roots of systemic inequities in organizational systems that have been held in place by privilege and power.
2. Excavate the ecosystem that surrounds the roots so that we understand exactly how inequities are held in place.
3. Identify the elements in the ecosystem to transform into systemic equity – NOW!

We invite you to join us for an upcoming session of the NW Diversity Learning Series. Please express your interest to UCFCOMDiversity@ucf.edu. Space is limited.

Heightening Inclusive Values and Behaviors
Wednesday, January 27
Most organizations have value statements. Some have behaviors. Participants will get into "good trouble and necessary trouble" in this session by examining organizational values and behaviors. Do they align with Inclusion? With being Anti-racist? Are all values visible, or are some hidden? Are systemic inequities buried in them? Participants will leave with tools and techniques to help their organizations assess their values and behaviors, to make them more relevant, more lived, more inclusive of a diverse workforce.

Leveraging the Roots of Resistance for Inclusive Transformation
Wednesday, March 17
Not everyone views a more diverse, equitable, and inclusive workplace as positive. Resistance to change is not unusual—it's part of the landscape. Getting into "good trouble and necessary trouble" in this session involves learning about and engaging resistance to systemic equity—on the part of individuals and organizations. Some of the issues to explore include fear of the browning of America, loss of white status, power, and privilege, the disruption of social cohesion, conflict between individual and collective worldviews, how people adopt change, and polarity thinking. Participants will leave with greater empathy, as well as strategies and tactics, for leveraging resistance towards transformative change.

Negotiating with Power
Wednesday, May 19
When social advocates approach people in power for support, resources, or sponsorship, how prepared are we to listen for clues, discover interests, or enlist their involvement? Getting into "good trouble, necessary trouble" in this session involves engaging people in power in creative ways. Participants will learn effective negotiation tactics, how to clarify the powerholder's interests and needs, their self interest in equity, and what ideas and solutions they might find agreeable and desirable. (Possible case study: gender pay equity)

Being an Anti-Racist Organization
Wednesday, June 30
By early June of 2020, 76% of Americans saw racial and ethnic discrimination as a "big problem," a significant increase from only 50% in 2015. Getting into "good trouble, necessary trouble" in this session means righting the boat, plugging the leaks, taking up the oars—being an advocate, an accomplice, for "anti-racism"—NOW! As an advocate/accomplice, you learn how to analyze and discover racial disparities in systems, policies, practices, processes and preferences. You learn how to communicate your findings. You hold your organization accountable for abolishing racial disparities. You create a sense of urgency. Participants will take away processes and tools they can share with their co-workers. They will leave with a clear understanding of what it means to be an Anti- racist organization, and an anti-racist champion.

Walking the Equity Talk: Development and Advancement
Wednesday, September 29
What's the problem here? "Managers have not elevated or promoted diverse employees!" Getting into "good trouble, necessary trouble" in this session involves employees engaging with managers. Participants will be part of a negotiation between real managers and real employees about development and advancement of diverse employees. Managers will be invited to share their circumstances and realities. Employees will be invited to share their lived experiences, their challenges. With facilitators, each group will engage in "what ifs"—what might be alternatives for managers? What might be alternatives for employees? Participants leave with ideas and strategies to achieve better outcomes for developing and advancing diverse employees.

Belonging in Organizations – Elusive or Achievable
Wednesday, November 10
Belonging is identified as a key driver of Inclusion (McKinsey, 2020). But what does it really mean? How is it achieved? Getting into "good trouble, necessary trouble" in this session means hearing from real people—their stories. We'll invite participants to join in—what are their "lived experiences" when it comes to that feeling of Belonging? What makes it happen, what doesn't? Having this backdrop, facilitated discussions will identify creative ideas for fostering Belonging, realizing its benefits, so that it truly becomes a driver of Inclusion.