In concert with the AAMC's Medical School Objectives Project, the Medical Informatics LCT has identified objectives and topics relevant to a practicing physician. The curriculum focuses on the skills and attributes that will advance the student in their role as researcher, clinician, educator/communicator, manager and life-long learner.
Co-Directors:
David Lebowitz, M.D, FAAEM
Nadine Dexter, MLS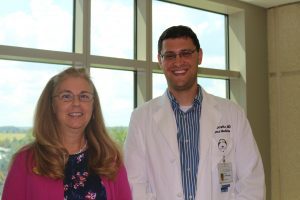 Learning objectives:
Using Evidence Based Medicine (EBM) principles to develop information habits to maintain currency.
Demonstrate basic computer skills and how to manipulate and use information in common computer applications.
Demonstrate the ability to utilize mobile devices and determine which mobile software is best suited to various tasks.
Demonstrate knowledge of information resources available at the health sciences library and their use to support life long learning.
Use a clinical encounter to formulate a "Patient Intervention Comparison Outcome" (PICO) /clinical question.
Demonstrate the ability to use MEDLINE to conduct literature searches to locate articles.
Critically review a published research report/article.
Demonstrate fluency with electronic health records systems.
Identify resources available for patient education.
Discuss the role of the Personal Health Record (PHR) in communication with patients.
The Medical Student Interest Group has created a website to help guide you on useful apps corresponding to each clerkship.