Medical Informatics
In concert with the AAMC's Medical School Objectives Project, the Medical Informatics LCT has identified objectives and topics relevant to a practicing physician. The curriculum focuses on the skills and attributes that will advance the student in their role as researcher, clinician, educator/communicator, manager and life-long learner.
Co-Directors:
David Lebowitz, M.D, FAAEM
Nadine Dexter, Ed.D., MLS, DAHIP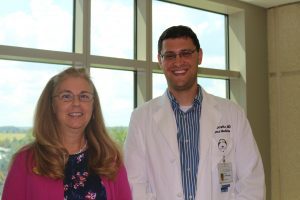 Learning objectives:
Information Retrieval: Students will be able to navigate medical literature and synthesize information from multiple sources.
Information Literacy: Students will be able to filter, evaluate and reconcile information.
Evidence Based Medicine: Using information literacy and retrieval skills, formulate a clinical question (PICO), perform critical appraisal of the literature, and apply to patient care.
Electronic Health Record: Increase student awareness regarding the role of the EHR to improve patient care, safety, and education.
The Medical Student Interest Group has created a website to help guide you on useful apps corresponding to each clerkship.