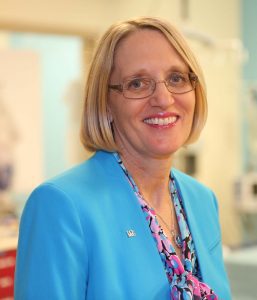 Diane Davis Davey is a Professor of Pathology, Associate Dean for Graduate Medical Education, and Designated Institutional Official (DIO). She is also a part-time pathologist at the Orlando Veterans Affairs Medical Center with specialty expertise in cytopathology and hematopathology. She chairs the Graduate Medical Education Committee and is involved with efforts to build new residency programs in Central Florida. Dr. Davey is a Past-President of the College of Medicine Faculty Council, served as Interim Chair of the Clinical Sciences Department in 2015-16, and is a member of COM Enterprise. Dr. Davey teaches in several medical student modules including the S1 Hematology/Oncology module.
Prior to coming to Florida in late 2007, Dr. Davey was Vice Chair for Education in the Department of Pathology and Laboratory Medicine at the Univ. of Kentucky. She also directed the cytopathology fellowship program and the cytology and bone marrow laboratories at the University of Kentucky. Diane received her M.D. at Washington University and did her pathology residency at Indiana University and the University of Iowa. She completed a hematopathology fellowship at the University of Iowa. She is board-certified in anatomic and clinical pathology, hematology and cytopathology by the American Board of Pathology.
Diane is a current member and past-chair of the College of American Pathologists Cytopathology Committee. She is a member of the American Society of Cytopathology (ASC) Awards Committee and an ASC representative to the Cytopathology Education and Technology Consortium.  She is a Past-President and Trustee of the American Board of Pathology, the certifying board for pathologists, and a past member of the Pathology Residency Review Committee for the Accreditation Council for Graduate Medical Education. She was President of the American Society of Cytopathology in 2001-2, and she served as a moderator for the National Cancer Institute (NCI) Bethesda 2001 Workshop for Cervical Cytology terminology. She has served on several committees of the American Society for Colposcopy and Cervical Pathology, and has worked on task forces to develop management guidelines for cervical cancer screening.
She has been an advisor for both the FDA and the NCI, and serves on editorial boards for three journals. Her research efforts have focused on cervical cytology and quality improvement efforts in laboratories, including uniform reporting terminology, new cytology laboratory technologies, and laboratory and patient management guidelines, and also on educational and competency assessment.