Hispanic/Latina/o/x Heritage Month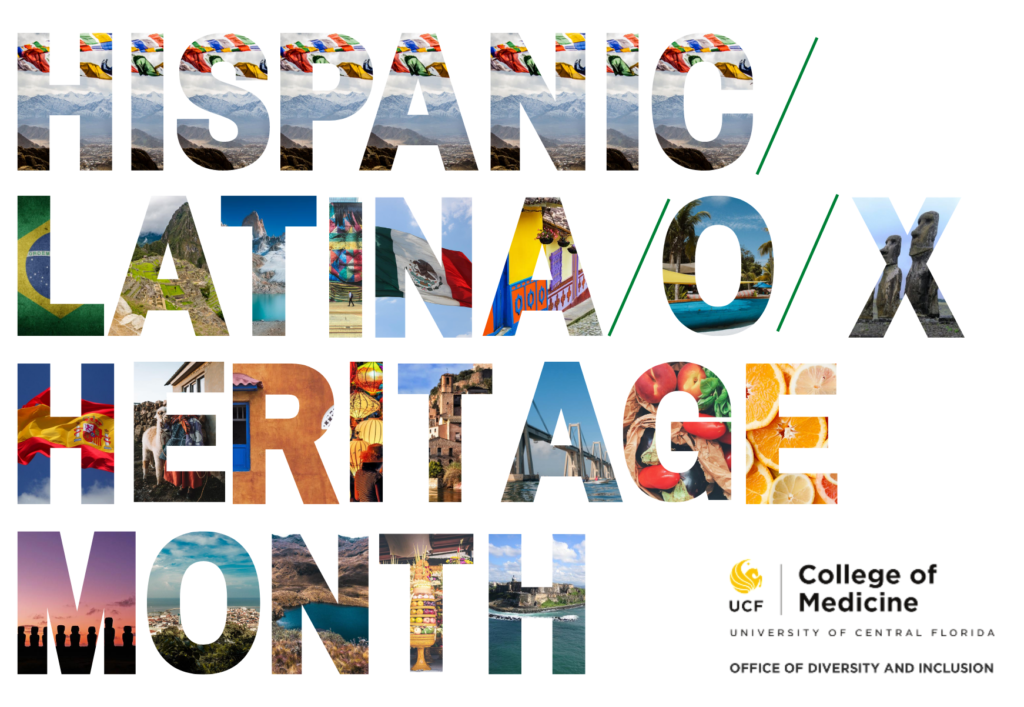 GOOGLE EARTH PROJECT
Check out the Hispanic/Latina/o/x Heritage Month 2020 at UCF COM Google Earth Project. Share your Hispanic/Latina/o/x cultural story, heritage, and/or vacation with the project through maps, photos, videos, and text. The final project will be presented during the Arts and Culture Watch Party.


PIONEERS, SCIENTISTS, AND PHYSICIANS
Be sure to visit the COM Facebook page throughout the month to learn about and celebrate Hispanic and Latina/o/x pioneers, scientists, and physicians.

LMSA PRESENTS: NUESTRAS RAICES: STORIES FROM OUR LATINX FACULTY
Interested in learning more about the unique challenges faced by Hispanic/Latina/o/x physicians? What about the distinctive health disparities faced by Hispanic/Latina/o/x communities? If so, tune in to the Latino Medical Student Association's (LMSA) panel on Tuesday, Sept. 15th at 5:30 pm to hear from physicians who have dedicated their careers to treating under-served and predominately Spanish-speaking patients.


LMSA – LATINXMEDX
Join the Latino Medical Student Association (LMSA) for their LatinxMedX event celebrating the inspiring stories of Hispanic/Latina/o/x students! Guests include DACA recipients, fellow UCF COM students, & more! Mark your calendars for Tuesday, Sept. 29th, at 12:00 pm! Zoom link TBA.


REEL DISCUSSION: DOLORES
Learn about the story of Dolores Huerta, a Hispanic/Latina activist icon in American history. Co-founder of the first farmworkers union with Cesar Chavez, Dolores led the fight for racial and labor justice, becoming one of the most defiant feminists of the 20th century.

This film discussion will take place on Thursday, October 8 from 3pm-4pm. Event registrants will be invited to watch the film on their own and then join their fellow COM colleagues in facilitated reflection and discussion. Register via Eventbrite by October 1.

HISPANIC/LATINA/O/X ARTS AND CULTURE WATCH PARTY
On the afternoon of Wednesday, October 14 from 12pm-1pm, help close out the month-long celebration by attending the COM Hispanic/Latina/o/x Arts and Culture Watch Party. Join host, Abnel Rodriguez-Castro, for a video compilation of the COM community showcasing Hispanic/Latina/o/x inspired art and culture (dance, song, instrument, culinary, painting, clothing, etc.). Join via Zoom.

You are invited to star in this virtual event by submitting a video, photo, presentation, etc. to be featured during the watch party. Video submissions should be in horizontal, mp4, and HD format. Material(s) should not exceed 2-3 minutes in length, start to finish. Be sure to provide a brief introduction of yourself and your material for your audience. You may want to consider using a flag or point of interest as your performance background. Please upload your material(s) to OneDrive (faculty/staff and students) by Wednesday, October 7 with the title format YOUR NAME_COUNTRY_ART FORM. Once you have uploaded your material(s), please send a note to UCFCOMDiversity@ucf.edu to confirm receipt of the material.