Pipeline Programs

Health Leaders Summer Academy


The Office of Diversity, Equity and Inclusion (ODEI) at the UCF College of Medicine is delighted to offer the Health Leaders Summer Academy (HLSA). The program is a hands-on, educational summer experience for Orange and Osceola rising juniors that have demonstrated a strong passion for pursuing a career in medicine through their academic achievements. Ideal candidates are students that have completed their sophomore year in high school and one year of Biology. The program will present the opportunity to gain exposure to UCF faculty, staff, and medical students in a series of experiences and activities designed to increase interest and awareness in the health professional workforce.

SAVE THE DATE: The 2021 Health Leaders Summer Academy will take place virtually this year during the week of July 19-23 from 1pm-5pm. The program application will open soon. Please check back for updates.


Medical Mentorship Navigation Program

Through learning modules and mentorship, the Medical Mentorship Navigation Program (MMNP) provides participants with a deep understanding and preparedness of the activities and requirements needed to be a successful candidate for the M.D. program at UCF College of Medicine and other medical institutions. The MMNP pairs faculty members and community physicians with underrepresented students from the UCF Burnett School of Biomedical Sciences who have a strong academic record and a passion for medicine. We believe that this formal mentor relationship, when paired with facilitated learning sessions, will help qualified students better prepare themselves according to medical school admissions requirements and inspire them to pursue a career in medicine or another health-related profession.
The MMNP 2020 Cohort has reached capacity. Please check back in the summer for 2021 dates and application.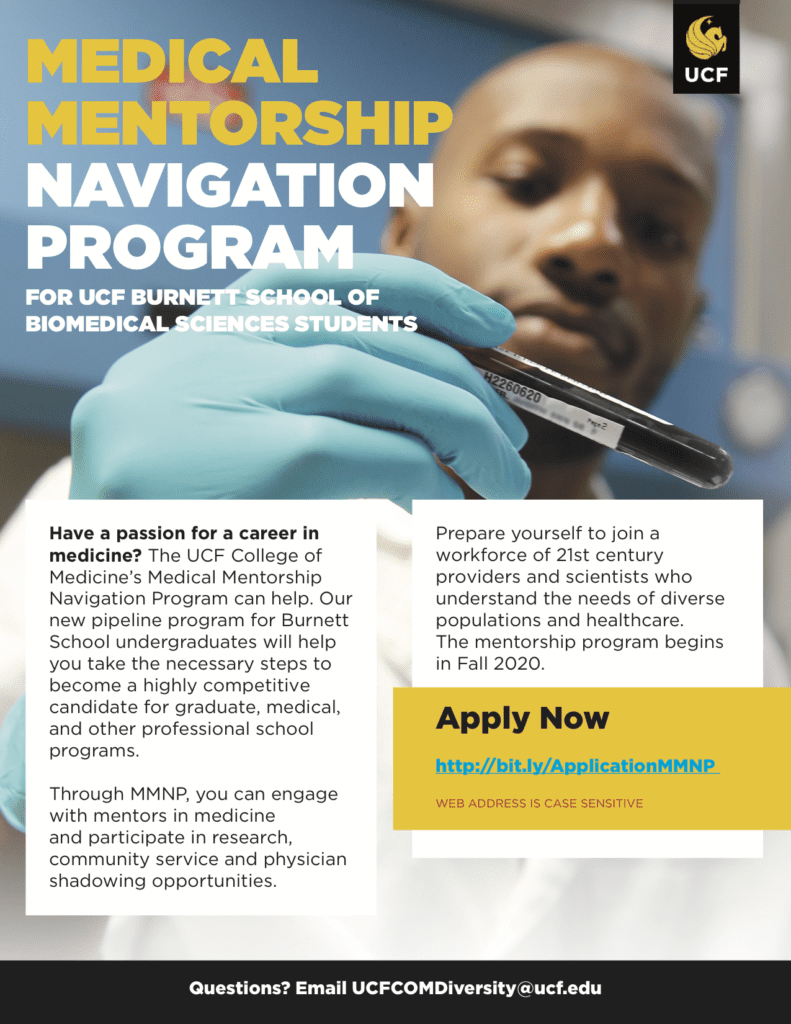 Prospective Student Resource Program

The Office of Diversity, Equity and Inclusion welcomes and invites prospective medical students of diverse populations, at any stage in their academic or professional career, to connect with us! Meet with Dr. MacIntosh, Associate Dean for Diversity, Equity and Inclusion, to learn about diversity at UCF COM and garner guidance and feedback on your CV for your medical school applications. After meeting with Dr. MacIntosh, students have the opportunity to engage with COM Student Diversity Liaisons for candid conversation, insight, and perspective from current UCF medical students.


High School Outreach Program

Current COM medical students are integrating into the curriculum of local high schools to provide key resources and insight into the path towards medical school. The medical students will host virtual session(s) with high school students to share firsthand knowledge about undergraduate education, the medical school admissions process, available resources, and medical education experiences. The sessions will feature guest speakers, including UCF Pre-Health and Pre-Law Advising office and community physicians from underrepresented backgrounds, and mentorship opportunities with medical students and practicing physicians.



Healthy Lifestyle Initiative for High School Students

The UCF Healthy Lifestyle Initiative (HLI) is a medical student-driven initiative designed to teach students at Jones High School and Evans High School about Lifestyle Medicine. The program aims to educate youth on the importance of nutrition, physical activity, substance use, stress management, sleep management, and social connectedness to lead a healthier lifestyle and improve future health outcomes.