Health Leaders Summer Academy
ATTENTION: Due to COVID-19, we will not be able to provide the traditional, face-to-face program this year. We have created a condensed, virtual program that will take place Friday, July 17 from 1pm-5pm. Please use the link below to apply for the 2020 Virtual Health Leaders Summer Academy.
Overview


The Office of Diversity and Inclusion (ODI) at the UCF College of Medicine is delighted to offer the Health Leaders Summer Academy (HLSA). The program is a one-week, hands-on, educational summer experience for Orange and Osceola rising juniors that have demonstrated a strong passion for pursuing a career in medicine through their academic achievements. Ideal candidates are students that have completed their sophomore year in high school and one year of Biology. The program will present the opportunity to gain exposure to UCF faculty, staff, and medical students in a series of experiences and activities designed to increase interest and awareness in the health professional workforce.

Eligibility


The 2020 Virtual Health Leaders Summer Academy is currently only offered to students who attend high schools in Orange and Osceola Public Schools. To be eligible for the Health Leaders Summer Academy, applicants must complete the application and required documents in full. Please note that attendance is limited and seats will be given on a first come first served basis.

Application



The 2020 Health Leaders Summer Academy took place on July 17. Please check back in the spring for 2021 dates and application.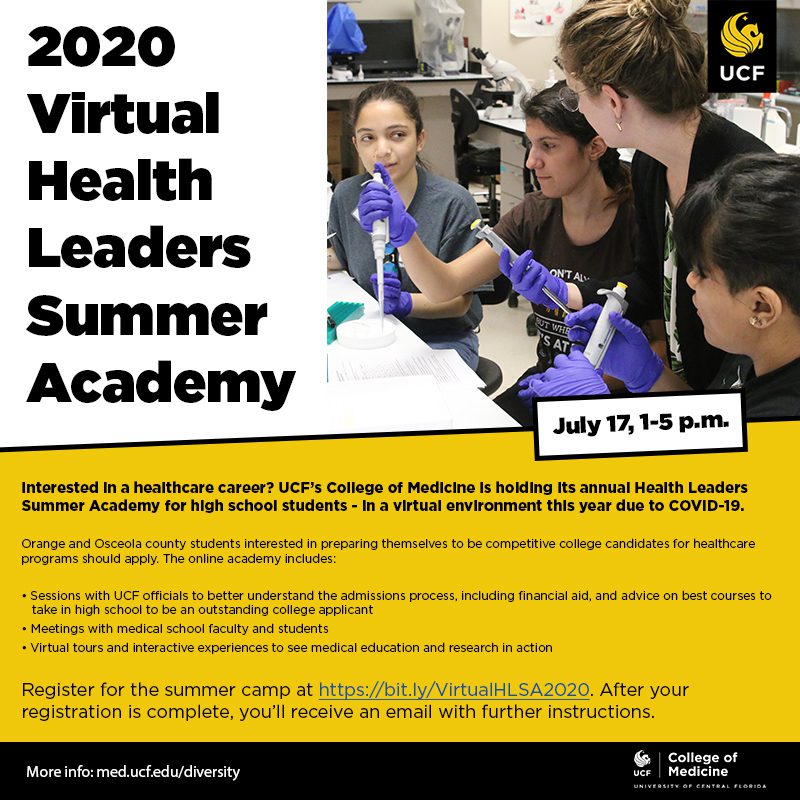 Learn More About the Health Leaders Summer Academy


UCF Health Leaders Summer Academy 2018
Summer Academy Helps Underserved High Schoolers Prepare for Health Careers

Questions, Comments, or Concerns?


Please address any questions, comments, or concerns to:
UCF College of Medicine
Office of Diversity and Inclusion
6850 Lake Nona Blvd.
Orlando, FL 32827
407-266-1030
UCFCOMDiversity@ucf.edu