Florida Diversity Learning Series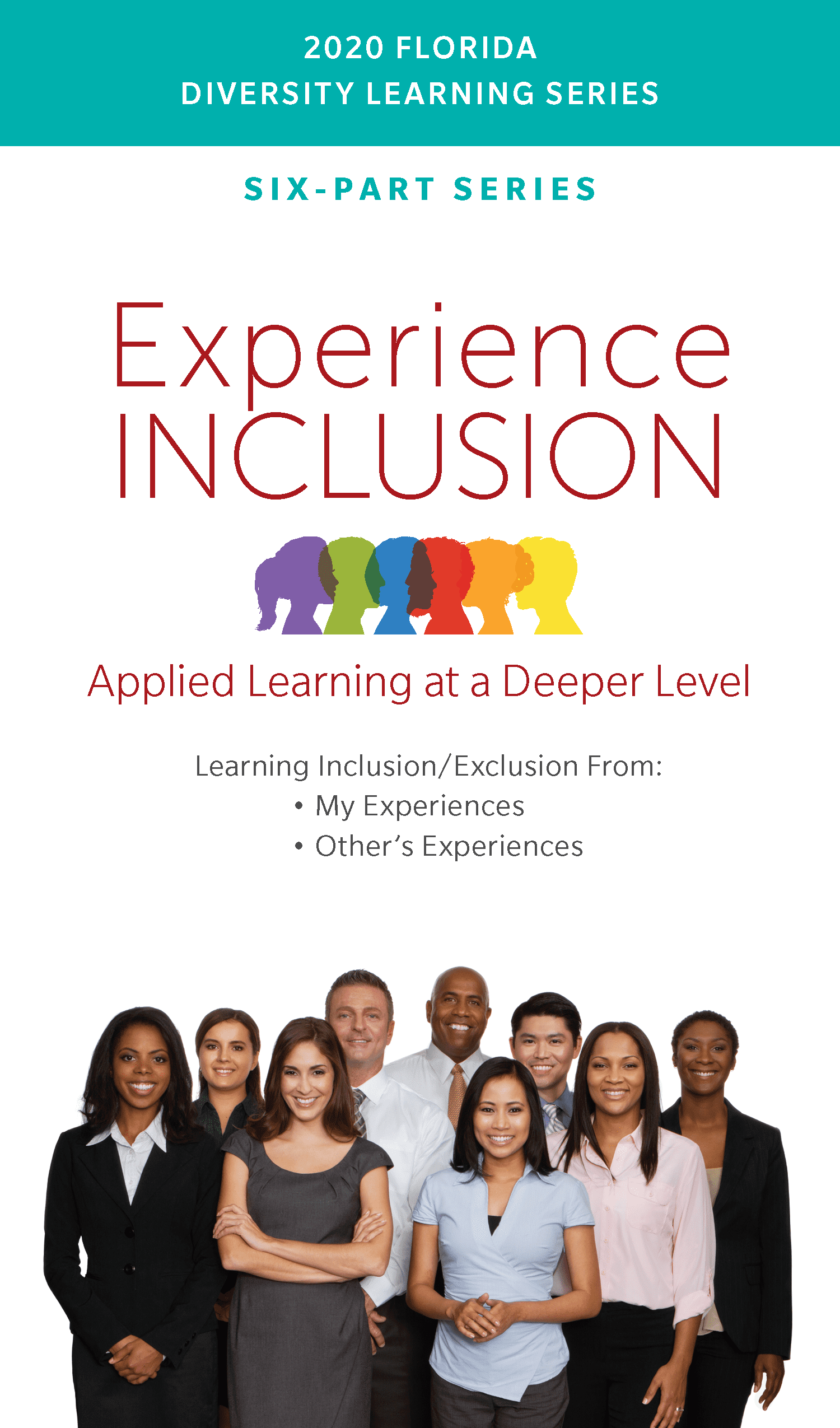 The Central Florida Diversity Learning Series (FDLS) is a bi-monthly series, which focuses on essential aspects of diversity and inclusion in an organizational environment. Each year FDLS has a different theme, and the sessions are an exploration of that theme. The sessions are broken into two components: a morning seminar is offered to organizations around Central Florida, with an abridged version following immediately after, which is open to COM faculty, staff, and students.

Please join us for an upcoming Florida Diversity Learning Series Lunch and Learn.


*Due to COVID-19, FDLS lunch and learns will be temporarily suspended. Full seminars will be held virtually beginning in August and will be offered to a limited number of COM faculty, staff, and students. If you are interested in attending one of these sessions, please email UCFCOMDiversity@ucf.edu.

Tuesday, March 10 – 12:15 to 12:45pm – COM 101
Title: Difficult Dialogues – Respectful Discussions on Divisive Topics
These days it seems that almost any topic can become a divisive topic. All-too-often people state their option and walk away. Or they adamantly defend their position – despite contradictory data and evidence. Building on the tools from session 1, this session will focus on using an enhanced set of communication tools to engage others in difficult (or at the very least) uncomfortable dialogues. Dialogue, many would say, is a lost art. This session will guide participants to identify the inclusion/exclusion issue at hand and to engage in a respectful, two-way dialogue on topics we often don't address.
Facilitator: Loretta Van Pelt

Tuesday, August 11 – 1:00 to 3:00pm – Zoom
Title: Difficult Dialogues – Political Civility – Respectful Dialogue and Disagreements
Politics. Historically not a topic that is discussed in reasonable and rational, much less respectful, ways. Capitalizing on the skills and tools learned in earlier sessions (refresher provided for those unable to attend), participants will have an opportunity to observe, react and engage in respectful political dialogues and disagreements. These situations will prove invaluable as we approach the National Conventions and ultimately, the November election. We will use current political issues to ensure relevance. These skills used will be transferable to other equally-difficult dialogues in the workplace (and perhaps at home, as well.)
Facilitator: Braver Angels

Tuesday, September 15 – 9:00am to 12:00pm – Zoom
Title: Learning Disabilities – Their Value and Impact in the Workplace
It's time, actually it's past the time, for us to focus on the abilities, knowledge and potential of a workforce that understands, attracts and supports people with a vast range of abilities. For many, interactions with individuals of differing abilities are often uncomfortable, awkward and sometimes simply avoided. This session will take direct aim at addressing the language and actions we can take to build an inclusive environment for all abilities. We will also work on the methods and practices we can use to create an environment where those with differing abilities feel safe to share their skills and wisdom along with possible limitations, creating clear expectations for productive future employment and success for all.
Facilitator: Alexander Morris-Wood

TBA
Title: Ableism – Using Language and Actions to Create Inclusion for All
Building on the knowledge and skills from our June session (refresher provided for those who were unable to attend) we will narrow our attention to the role of learning disabilities in our workplace. With better and earlier diagnosis, we are seeing more people achieve success in our education systems. With those insights, we will examine the breadth of learning disabilities, how they "present" and they impact people's educational journey and potential career choices. Using that foundation, the goal of this session is to uncover ways our organizations can build environments where learning disabilities are acknowledged, valued and capitalized on – leading to greater career options and success.
Facilitator: Pat Wear

TBA
Title: Emerging Technology – The Impact of Developer Bias on Systems/Processes and Inclusion
Emerging technologies used in programming, e-learning modules, video game design/development and in artificial intelligence (to name a few) are having an increasingly profound impact on our employment, work processes, training opportunities and many other aspects of our emerging workplace environments. Yet, very little has been done to address the potential of developer bias in the creation of these technologies which track/monitor or interests and "guide" us to new products, services and opportunities. We will explore the impact of those biases and address both the limiting and expanding powers of technology. We will be immersed in conversations, technology experiences and simulations to help us discover the how to be better consumers of technology that supports, encourages and amplifies the value of inclusion.
Facilitator: TBD