What are the benefits to being a UCF COM Diversity Champion?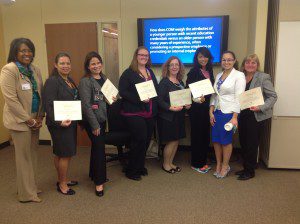 Greater Success: A better understanding of your colleagues, patients, and students will enhance the quality of your work and relationships with others.
Professional Development: Receive diversity and inclusion professional development from national experts through the Diversity Lunch and Learn series, AAMC webinars, and other opportunities.
Professional Recognition: List your activities and Diversity Champion status on your resume and vita, discuss it during your annual evaluation, be recognized at the annual COM award ceremony. You will receive a Diversity Champion certificate and lapel pin.
---
How can you become a Diversity Champion?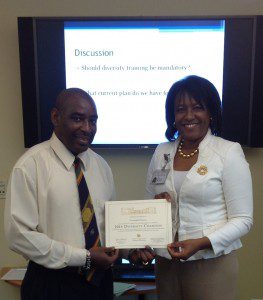 Attend or participate in at least 4 of the opportunities listed within a 2 year time span. You can suggest opportunities that are not currently listed by emailing the Office for Diversity and Inclusion (UCFCOMDiversity@ucf.edu), but they must be approved at least one week prior to the event. If you choose to participate via webinar, please select from at least two different subject areas.
Report these 4 experiences using the Google Form.
Share your insights and experiences at a Council on Diversity and Inclusion (CDI) meeting and have your insights recorded on the Diversity and Inclusion website. You can present as an individual or in pairs. Presentation time is between 6-10 minutes.
What to Include in your Presentation:
What did you learn from these activities?
How did participating in these activities challenge or change your assumptions or beliefs?
How have you applied what you learned to your day to day interactions at College of Medicine?
Facilitate a short discussion with CDI meeting attendees by introducing a compelling question, topic or idea related to your presentation, to the health care field, to medical education or to COM.
Optional questions to address:
Did you experience any 'aha' moments?
How did attending the Lunch and Learn series change your perspective on diversity and inclusion?
Based on your experiences with the Lunch and Learn series, do you have recommendations to support the Diversity and Inclusion efforts at COM?