2020 ODI Calendar
ZORA Stem Conference
Friday, January 31 – 8:00am-3:00pm – Orange Technical College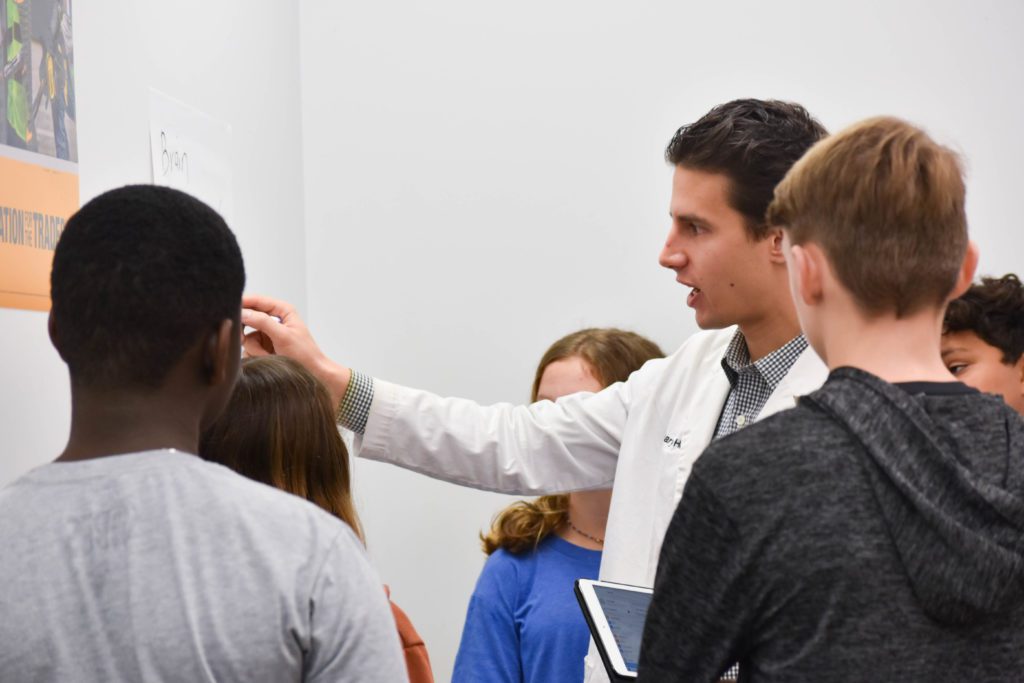 Each year at the end of January, the City of Eatonville hosts the ZORA! Festival to celebrate the life of Zora Neale Hurston, the historic significance of Eatonville, and the cultural contributions of African ancestries. The event is a multi-day production of public talks, museum exhibitions, theatrical productions, arts education programs, and more.
As part of the ZORA! Festival, the Annual ZORA! STEM Conference provides an opportunity for middle school students attending Title I schools to engage in science, technology, engineering, and math workshops. UCF College of Medicine students facilitate an "Adventures in Medicine" workshop to expose students to medical science and the physician-training process.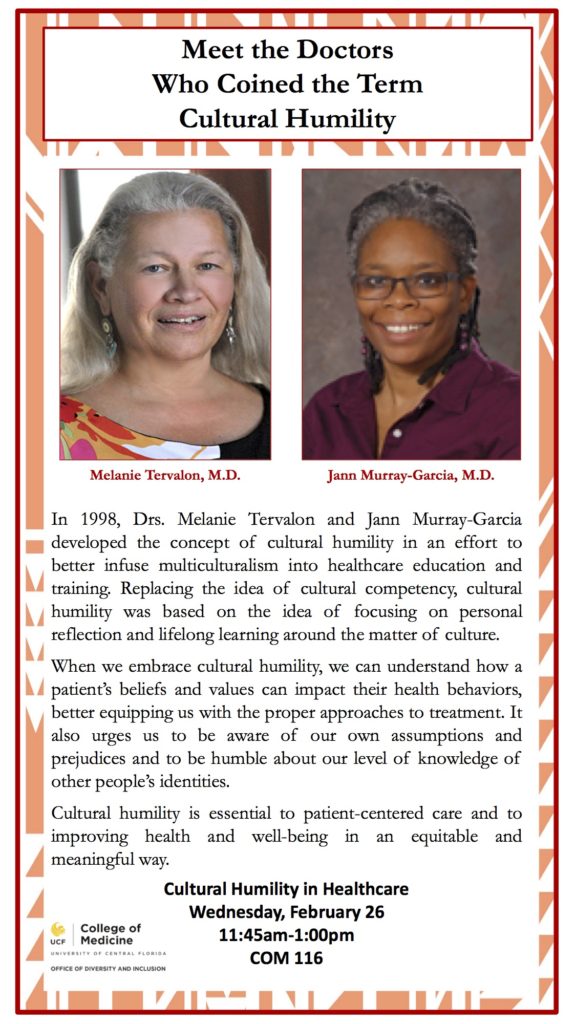 African American Heritage Month
Wednesday, February 26 – 11:45am-1:00pm – COM 116
Every February, the nation observes the contributions African Americans have made to help shape US history. This year, the College of Medicine's Office of Diversity and Inclusion will recognize African American Heritage Month with a discussion on cultural humility in healthcare followed by a Q&A panel.
Panel Event: The importance of understanding cultural humility and suspend bias and prejudice in practicing healthcare to foster positive health outcomes.
March
The month of March is reserved to commemorate and celebrate the vital role and contributions that women have made in American history.

Interfaith Forum
Postponed due to COVID-19
Interfaith Engagement and Practice: Healing and Comfort for the Community
Faith and medicine, and faith in medicine, are not new topics. Sometimes absent from these important conversations is a specific focus on how the medical community can support interfaith recognition and conversation both within medical facilities and within the broader community. This discussion will raise important questions and identify potential answers. The discussion will be grounded in actual practice and experience of panelists and will include local examples such as response to and aftermath of the Pulse nightclub shooting in Orlando.
The central question of the interactive session: How can medical professionals help facilitate healing and comfort of the community through interfaith engagement and practice?
The session will include an opening address and moderation by Dr. Thomas Bryer, Professor in the School of Public Administration at UCF, and will include engaging discussion with an interfaith panel involving clergy or religious personalities from multiple faiths and perspectives. Students, faculty, and staff are invited to participate in this dialogue to share knowledge and experience, and learn from one another.

New Dimensions – IPE Workshop
Canceled due to COVID-19
Every year, the College of Medicine provides students with an interest in sciences at New Dimensions High School (NDHS), an opportunity to gain exposure to COM through a series of workshops and activities. COM faculty and staff provide interactive mini-lectures and insights for navigating the college admissions process, while medical students share their stories about their desire to become doctors, followed by a tour of the COM.

Safe Zone Training
Friday, April 17 – 9:00am-1:00pm – Zoom

College faculty and staff were invited to attend UCF Safe Zone training. Safe Zone training is an opportunity to learn about LGBTQ+ identities, gender and sexuality, and examine prejudice, assumptions, and privilege. Participants will gain a deeper familiarity and comfort with LGBTQ+ vocabulary, inclusive practices, and privilege.

Asian American and Pacific Islander Heritage Month
May
The month of May is reserved to pay tribute to the American history, culture, and tradition of Asian and Pacific Islanders.

Pride Month
Tuesday, June 30 – 11:30am-1:00pm – Zoom
Annually, during the month of June, we observe Pride Month to recognize the impact that lesbian, gay, bisexual, and transgender individuals have had on history world-wide.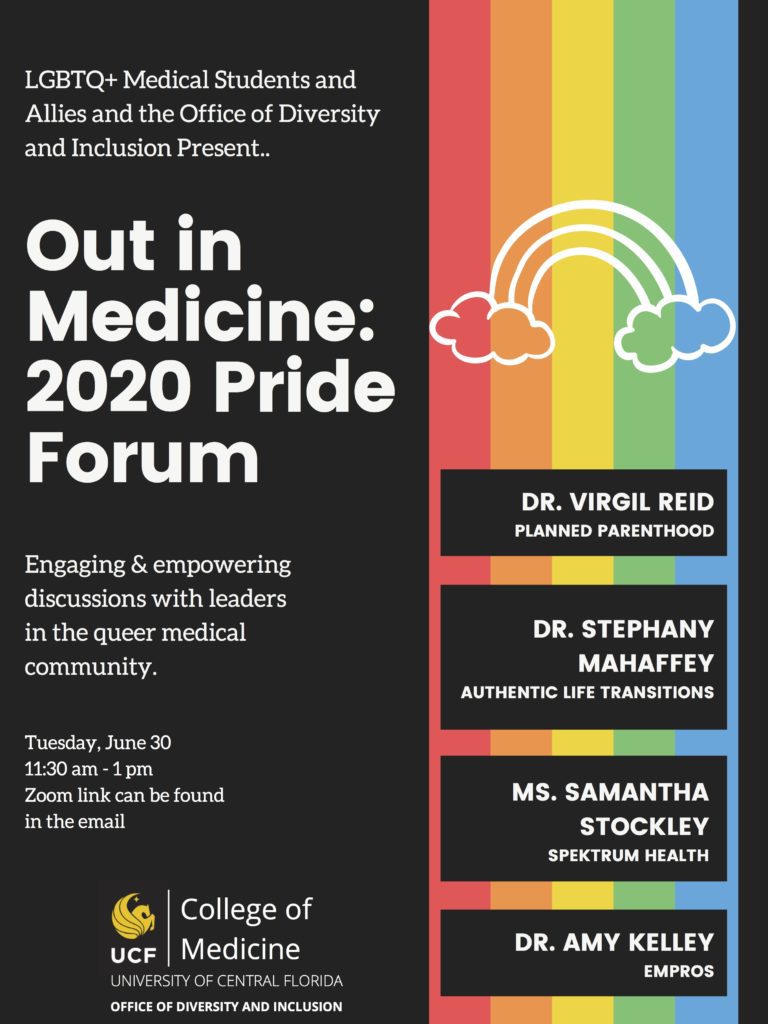 Building an Inclusive Community – A Virtual Dialogue Series
Thursday, July 9 – 11:00am-12:00pm – Zoom
In July of this year, we kicked off a new initiative to support and create a more diverse, inclusive, equitable, and anti-racist environment at the UCF College of Medicine (COM) and broader healthcare community through a series of collaborative dialogue. This first dialogue will focus on supporting COM students, faculty, and staff in their concern and pursuit for dismantling racism and achieving equality for all. This will be used as a listening session and information gathering process that will allow us to hear from our COM community, identify issues and concerns, and propose next steps in moving forward. Following dialogues will be used to report findings, collaborate on creative ideas and solutions, and formalize a plan of action.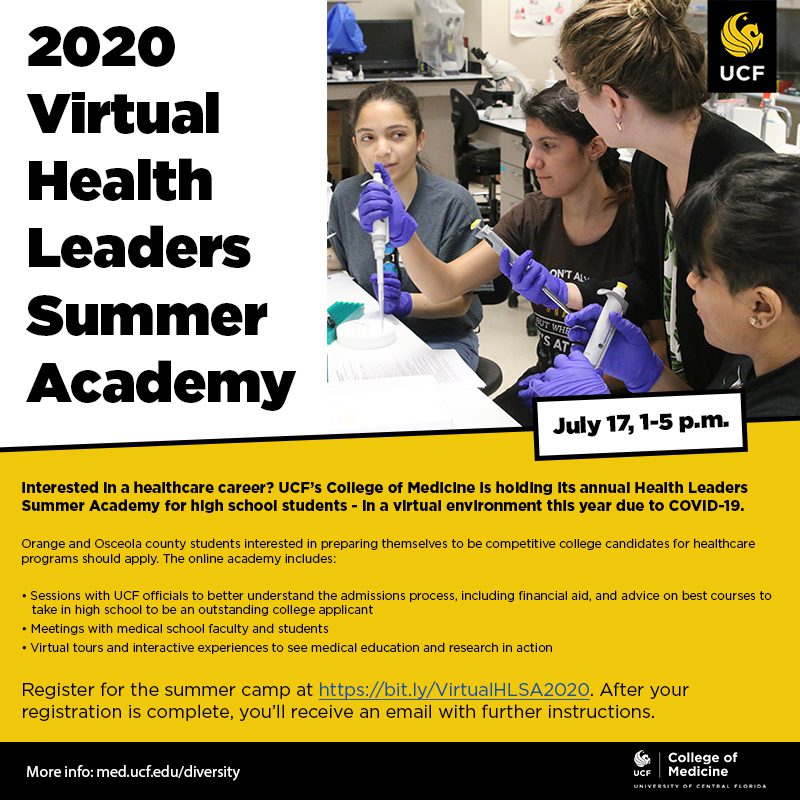 Friday, July 17 – 1:00pm-5:00pm – Zoom
Orange and Osceola County students were invited to attend the 2020 Virtual Health Leaders Summer Academy (HLSA). This annual program is geared to high school students who have an interest in pursuing a career in the health field. This year, due to the circumstances of COVID-19, the program will be held virtually. Program participants will have the chance to learn about the college admissions and financial aid process, participate in virtual lab tours and discussion, and engage in activities with current COM students.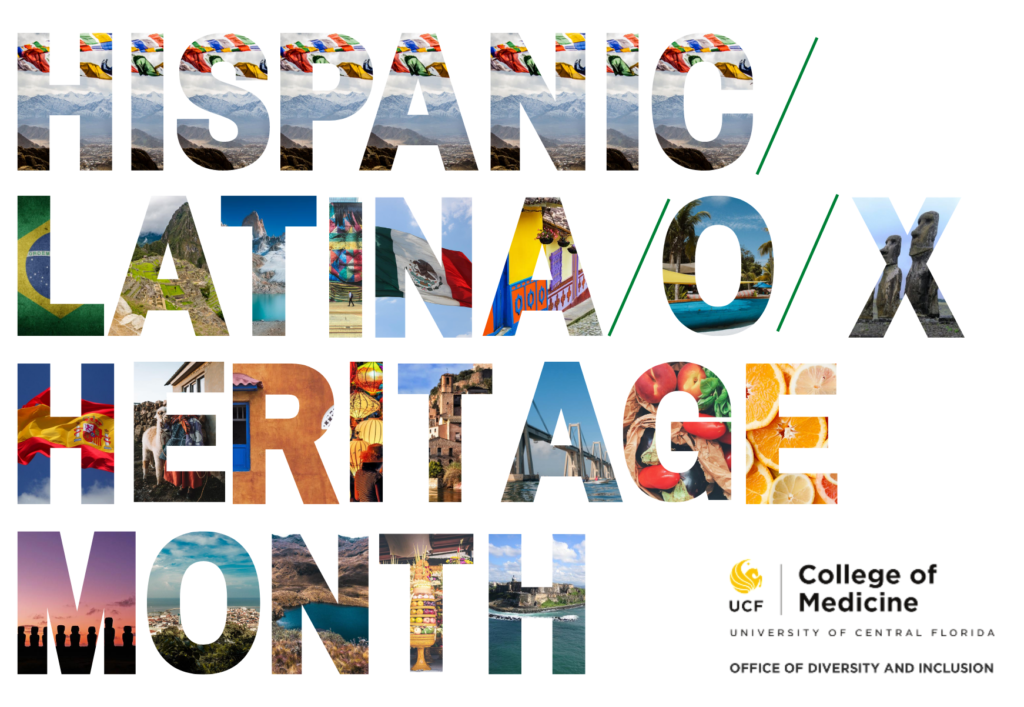 September 15-October 15
Every year from September 15 through October 15 we observe Hispanic/Latina/o/x Heritage Month to recognize and celebrate the cultures and contributions of Hispanic/Latina/o/x Americans whose ancestors came from Spain, Mexico, the Caribbean and Central and South America. You are invited to join your College of Medicine community in this year's celebrations!
October 19-23
Diversity Week occurs annually during the 2nd or 3rd week of October, which celebrates the diversity within the UCF community, in addition to illustrating the importance of diversity. It gives the UCF College of Medicine an opportunity to see that we are more alike than we are different. Activities, events, and learning experiences provide faculty, staff, and students a safe and non-threatening means for getting to know each other.