Black History Month
The UCF College of Medicine celebrates
the diversity of Black identity!


Join us as we embrace the history, achievements, and contributions of African Americans in the U.S.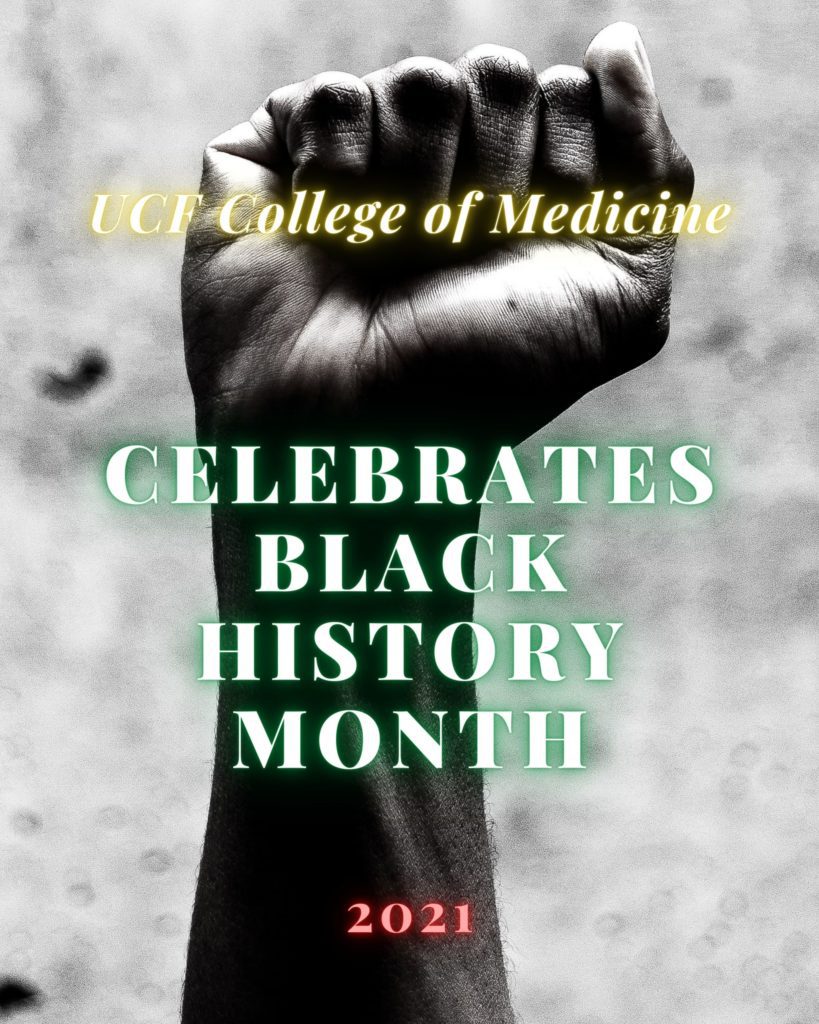 Friday, January 22, 9am-4pm
Webcourses
As the foundational workshop facilitated by UCF's Office of Diversity and Inclusion, the ABCs of Diversity explores three key concepts – diversity, inclusion, and equity. Discussions and activities develop the following ideas: human diversity is broad and includes all the ways in which we differ, understanding our similarities is key to developing connections, inclusion involves creating and maintaining safe and respectful spaces for everyone, and equity requires us to respond to the needs of individuals in order for each person to realize their full potential.
Faculty, A&P, and USPS: Register online at: my.UCF.edu.
Students and OPS: Email your name, course title, and course date to diverse@ucf.edu.
Tuesday, January 26, 12pm-1pm
Zoom
Learn more about your fellow colleagues at the upcoming Human Library Project event. The COM Human Library Project aims to: establish a safe conversational space where difficult questions are expected; challenge societal prejudices wherever and for whatever reasons they occur; help people form a better understanding of those with who they share their communities; demonstrate how vulnerability can create new relationships, understanding, and belonging; and promote open, honest, and respectful dialogue within the internal community.
The Human Library Project covers topics that fall under the 8 Pillars of Prejudice: Religious Beliefs, Sexuality, Ethnicity, Occupation, Lifestyle, Social Status, Health and Disability, and Political Conviction. We invite you to explore our collection of Human Books.
Wednesday, January 27, 12pm-2pm
GoToWebinar
Workshop participants will get into "good trouble and necessary trouble" in this session by examining organizational values and behaviors that may diverge from the values we espouse, what may be keeping those values and behaviors entrenched, and a framework that allows for productive and reflective critique. Participants will leave with tools and techniques to help their organizations assess their values and behaviors, to make them more relevant, more lived, more inclusive of a diverse workforce.
February 8, 15, & 22, 3pm-4pm
Zoom
Eyes on the Prize: America's Civil Rights Years tells the definitive story of the civil rights era from the point of view of the ordinary men and women whose extraordinary actions launched a movement that changed the fabric of American life, and embodied a struggle whose reverberations continue to be felt today. The six episodes in this series cover all of the major events in the civil rights movement from 1954-1965. Join your UCF community for facilitated reflection and discussion on the film.

Faculty, A&P, and USPS: Register online at: my.UCF.edu.
Students and OPS: Email your name, course title, and course date to diverse@ucf.edu.
February 8, 12pm-1pm
Zoom
Hear about Orlando's rich African American Heritage through the story of Dr. William Monroe Wells, one of the city's first Black doctors. As a doctor, Dr. Wells was a strong advocate for his patient's wellbeing and helped deliver over 5,000 babies in the community. He often provided free healthcare for low-income black families. During the segregation era, Dr. Wells built the South Street casino and hotel to provide facilities and recreation for the African American community in a time where accommodations were not available to them in other areas of Central Florida.

Wells'Built Museum
of African American History and Culture
TBA
511 W South St, Orlando, FL 32805
Sign up for an in-person experience at the Wells'Built Museum. Learn more about Dr. Wells, see memorabilia of Orlando's African-American community and displays on the Civil Rights movement, in addition to African art and artifacts. This historic museum is located in the center of Orlando's Parramore district at 511 West South Street. On February 4, 2000, the museum was added to the U.S. National Register of Historic Places.

Please note that the museum has adjusted their hours to 9am-5pm on Mondays, Wednesdays, and Fridays. Space is limited.