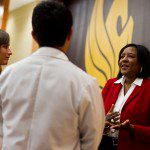 Diversity and inclusion are cornerstone values at the UCF College of Medicine as we work together with our communities to open communication and collaboration, promote cross-cultural understanding and address health care disparities. As our nation becomes more diverse at all levels – national, state and local – we must train new types of physicians and scientists, who better understand, connect and represent the communities they serve.
As assistant director of diversity, my goal is to work with everybody across the college to make diversity and inclusion part of what we do every day, to make sure that our M.D. program creates physicians who really work well with all people.
I have been blessed in my career to care for people in all kinds of settings who were facing all kinds of issues. And I want to pass those experiences on to our students, faculty and staff. I want to serve as a facilitator who can help teach by example that we as a college are supportive of all dimensions of human differences and that we are creating a culture where all people feel valued, respected and appreciated for their unique talents, beliefs and backgrounds.
As we prepare the health leaders of tomorrow, our objective is to create a climate that fosters belonging, connection and value for all.