Latest College of Medicine News
[brightcove id= 3742793353001 float=left] On Thursday night, August 21, the College of Medicine's new Internal Medicine residents doused themselves with ice water on the Tavistock Green and issued an ALS Ice Bucket Challenge to Dean Deborah German, Internal Medicine Chair Dr. Edward Ross and the entire UCF medical school. This is the first year of UCF's residency... Read More...
The Burnett School of Biomedical Sciences welcomed 37 new graduate students this week who are starting masters and Ph.D. programs -- from as far away as India as well as students who studied at UCF as undergraduates. Ph.D. candidate Levi Adams, originally from Maine, received a Research Excellence Fellowship at the Burnett school after attending the... Read More...
New Burnett School of Biomedical Sciences graduate students will kick off the school year Thursday, August 14 with an official welcome and meet-and-greets with faculty and new Burnett school Director Dr. Griffith Parks. Dr. Parks, who joins the UCF College of Medicine from Wake Forest University, was formerly chair of that university's Department of Microbiology and... Read More...
After seeing nearly 600 patients and setting up clinics in four rural sites in the Dominican Republic, 30 medical, nursing, pharmacy and engineering student returned to the U.S. with a renewed sense of service and a deeper understanding of the globe's healthcare needs. "I can't stop talking about it," said second-year medical student Denise Feradov, who... Read More...
The transition into medical school is one of the most challenging times in a student's life and for that reason,  first-year students have the opportunity to receive guidance from their very own "Big Sib." The Big Sib/ Little Sib program allows M-1 students to be paired with a second-year student for their first year in medical... Read More...
[brightcove id= 3725555393001 float=left]Going into the fourth of six Diversity Lunch and Learn Sessions, faculty, staff and students at the UCF College of Medicine have explored topics like sexual orientation, generational differences and better ways to include people with physical disabilities into the workplace. The latest session on July 29 with Dr. Ketra Armstrong from The University... Read More...
Medical students taking neurology shelf exams should be better equipped for these tests thanks to a program started by Dr. Michael Bellew, assistant professor of neurosurgery. On August 8, Dr. Bellew brought together community physicians to help them better understand what students need to learn about neurology to meet national standards. Physicians from Florida Hospital, Nemours... Read More...
An excited and eager new class of 120 medical students arrived at the UCF College of Medicine campus August 5 ready to soak in everything their first year of medical school has to offer as they participated in a week-long orientation.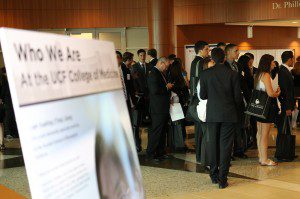 Class of 2018 students became familiar... Read More...
Dr. Marcy Verduin, the College of Medicine's associate dean for students and a newly promoted professor of psychiatry, has been named a Distinguished Fellow of the American Psychiatric Association (APA) for her significant contributions to the profession in education, research and patient care. As a clinician and researcher, Dr. Verduin specializes in the mental health needs... Read More...
About 54 million Americans have osteopenia and osteoporosis, making them more susceptible to bone fractures and breaks. Symptoms of this "silent disease" don't normally appear until the first break happens–typically in the hip, spine or wrist. Now UCF Pegasus Health, the physician practice for the UCF College of Medicine, offers DEXA scans, widely regarded as... Read More...