Latest College of Medicine News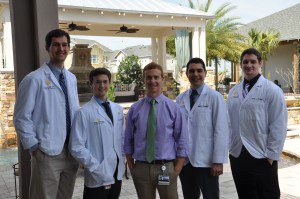 As tour guides at an innovative home that encourages health, College of Medicine students joined the nation's growing movement toward medical technology during the massive Healthcare Information and Management Systems Society (HIMSS) conference in Orlando February 23-27. Students from the Healthcare Innovations interest group took dozens of... Read More...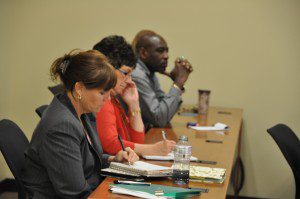 February is the month most associated with love and hearts, but it's the month that many focus on cardiac health. In accordance with The America Heart Association's National Heart Month, College of Medicine faculty and staff participated in a lunchtime seminar on healthy hearts with Dr. Bernard... Read More...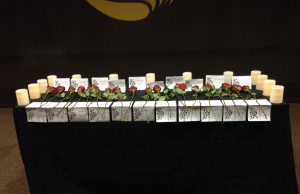 The College of Medicine thanked important donors known as "silent teachers" February 20 in honoring the individuals who had willed their bodies to science to help train future physicians. In a traditional medical school "send-off" ceremony, first-year students ended their 17 weeks of Anatomy Lab by thanking their... Read More...
Anatomy Lab is a rite of passage for every first-year medical student. But at the UCF College of Medicine, students not only learn anatomy. They must determine the cause of death for their first patient, a person who generously willed their body to science. After 17 weeks of analyzing blocked arteries, brains injured from strokes and... Read More...
Finding a practical way prevent the transmission of HIV, developing a reliable way to detect tuberculosis while a patient is in the doctor's office and findings ways that stem cells can treat ailing hearts are among the research projects that the National Institutes of Health is currently funding at the University of Central Florida. The NIH... Read More...
A UCF College of Medicine student known for his passion for the arts and medicine applied both to this year's American Medical Association Medical Student Section (AMA-MSS) meeting in Atlanta. Second-year student Michael Metzner serves as vice chairperson for the AMA student organization's Region 4 (Southeastern United States). He was in charge of planning this... Read More...
[brightcove id= 3238041019001 float=left]Dozens of runners, from amateurs to advanced levels, showed up early on a chilly February 16 for the first annual Global Health 5K race to raise money for medical supplies for students' annual medical mission trip to the Dominican Republic. The "Race Around the World" at  Lake Nona's Medical City... Read More...
Almost 400 people – a standing room only crowd – gathered Sunday to honor College of Medicine assistant professor William Safranek, Ph.D., who died February 17 in an automobile accident. Many of the attendees were students – undergraduates, graduates and those from nursing, laboratory sciences and medicine – who learned microbiology and much more from... Read More...
[brightcove id= 3251052557001 float=left]With her white lab coat, pipet and bright purple latex gloves, Lilly Ann Brooks looks ready to conquer the scientific research world. In reality, the 13-year-old's spirited fight against a genetic neurodegenerative disorder is inspiring fellow patients, medical researchers, local mayors and hundreds of people eager to run Saturday,... Read More...
Three UCF College of Medicine students have received $3,000 scholarships from the UCF Student Government Association for their achievements in the classroom and their contributions to the community. The awards went to first-year student Sami Saikaly, second-year student Kyle Burton and third-year student Teresa Martin-Carreras Duenas. Saikaly serves as president of the class... Read More...