Latest College of Medicine News
Using a series of wires and tubes, the UCF medical student surgically "inserted" the stent into a virtual carotid artery supplying blood to the brain and then saw on a simulation screen what happened to his patient. Thanks to a volunteer surgical faculty member and the Orlando VA, UCF College of Medicine first- and second-year students... Read More...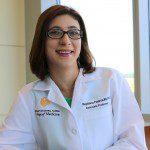 Holiday season's in full swing and for many of us that unfortunately means overindulging. But College of Medicine faculty member Dr. Magdalena Pasarica, an M.D.-Ph.D. who specializes in family medicine and nutritional science, offers ways to enjoy the holidays in a healthier way. Her first piece... Read More...
The College of Medicine is applying for a new federal grant to create a collaborative network for physicians across Florida to improve the health of patients and the providers' business operations. The nation's Center for Medicare and Medicaid Innovation is funding up to 35 organizations nationally to create collaborative Practice Transformation Networks (PTN). Individual grants are... Read More...
Patients only get excellent care if their healthcare professionals work as collaborative teams, and with that focus, the College of Medicine held its first Interprofessional Education Advocacy Workshop December 9-10 with over 200 UCF M.D., Masters students from the school of social work and University of Florida pharmacy students. As part of the training, students used... Read More...
Children's constant runny noses may be the "Milk and Cookie" disease, caused by too much dairy and sugar especially before bed, an ear, nose and throat specialist told a UCF College of Medicine audience December 8. Speaking at the second Health and Wellness Series at the college, Dr. Julie Wei of Nemours Children's Hospital said... Read More...
Starting in fall 2015, UCF will offer a combined M.D.-Ph.D. degree for students wishing to focus their health careers on both patient care and medical research. Established top-tier medical schools like Harvard, Yale, Stanford and Johns Hopkins offer M.D.-Ph.D. programs for "physician-scientists" -- healthcare professionals who want to care for patients while also pursuing research that... Read More...
[brightcove id= 3921421302001 float=left]Thanks to a 40-foot illuminated sign, the UCF Health Sciences Campus is now visible across Medical City, from State Road 417 – and even from planes flying overhead. The College of Medicine held an official lighting ceremony for the sign at dusk on December 1. Before the light was switched on, Dr. Deborah German,... Read More...
Finding a cure for cancer has been a dream of researcher Dr. Annette Khlaled, associate professor of the medical school's Burnett School of Biological Sciences since she was a teenager. With the help of fellow researcher Dr. Manuel Perez of UCF Nano Science Technology and a $1.3 million grant from the National Institutes of Health,... Read More...
First year medical Student Nicole Spitzer helped a 13-year-old named Devon pick out and glue colorful feathers to a paper headband while fellow first-year M.D. student Petros Svoronos battled in an Xbox game with another teen. On the other side of the Child Life Playroom, a youngster named Luke built towers of wooden blocks with... Read More...
Endocrinologist Rema A. Gupta, M.D. has joined UCF Pegasus Health, the physician practice of the UCF College of Medicine, to spearhead the treatment of patients with complex endocrine disorders like diabetes and thyroid disease. Dr. Gupta is board-certified in endocrinology, diabetes and metabolism, as well as internal medicine. "Most endocrine patients require long-term follow-up in some... Read More...