Latest College of Medicine News
With back-to-school immunizations already underway, the question of vaccine safety was a key topic at June 17's UCF Med Talk, a series of discussions that brings College of Medicine science to university alumni and friends at Orlando's Downtown PourHouse. This session's speaker was Dr. Griffith Parks, director of the Burnett School of Biomedical Sciences and an... Read More...
[brightcove id= 4330322381001 float=left]Interested in helping train the next generation of healthcare providers? Have a flair for communication and acting? The UCF College of Medicine needs you. The college is seeking members of the public who are interested in becoming "standardized patients" (SPs) – people who are trained to portray various symptoms for students in the... Read More...
The October 1 deadline is fast approaching for the much-anticipated switch to ICD-10 coding for medical practices. According to a recent survey, only 11 percent of providers surveyed were highly confident their employees would be adequately trained for the new coding system that verifies diagnoses and determines how physicians are reimbursed, The UCF College of Medicine's... Read More...
Everyone's challenged to fit exercise and healthy eating into a busy life. On June 25, Dr. Deborah German, vice president for medical affairs and founding dean of the College of Medicine talked about her secrets to wellness on the Growing Bolder Radio Network. The interview on WMFE 90.7 is the first radio spot in the medical... Read More...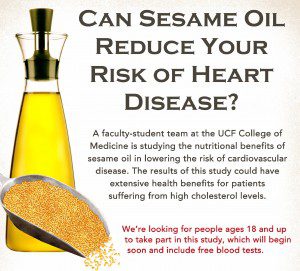 A faculty-student team at the College of Medicine is studying the nutritional benefits of sesame oil in lowering the risk of cardiovascular disease and is seeking participants. The results of this study could have extensive health benefits for patients suffering from high... Read More...
[brightcove id= 4323781118001 float=left] Alternative therapies like herbs, supplements, acupuncture and meditation can help a variety of health conditions. There is growing scientific evidence on the importance of traditional/alternative therapies and their role in modern medicine, UCF Health's new integrated medicine specialist told a community gathering June 17. Dr. Christopher Smith, a board-certified family medicine specialist... Read More...
December 19's AutoNation Cure Bowl at the Orlando Citrus Bowl will not only be a college football celebration, it will support breast cancer research, including the work of College of Medicine Associate Professor Dr. Annette Khaled. On Tuesday, Florida Hospital announced its corporate sponsorship of the NCAA event that will benefit the Breast Cancer Research... Read More...
Nausheen Naz, M.D., has joined UCF Health, the College of Medicine physician practice, to treat patients with diseases of the joints, muscles, bones and connective tissues. Dr. Naz is board certified in rheumatology and internal medicine. Her clinical interests include rheumatoid arthritis and lupus, as well as autoimmune disorders and systematic conditions like vasculitis. She will... Read More...
A self-described "geek" who loves how computers connect people worldwide is broadening his scientific pursuits to find ways that computers can help cure disease. Recent Burnett School of Biomedical Sciences graduate Vikram Dhillon has done his own cancer research and worked with the Sanford Burnham Medical Research Institute as he ultimately seeks to become an... Read More...
[brightcove id=4299465660001]The College of Medicine celebrated its new Internal Medicine residency's first year June 11 with awards, thanks and a pledge to continue bringing more trained physicians to Central Florida. The residency program, in partnership with the Orlando VA Medical Center and Osceola Regional Medical Center, graduated 16 first-year interns and two chief residents and... Read More...