About Pegasus Health
UCF Pegasus Health is the College of Medicine's physician practice. Here, physicians who are training the next generation of doctors bring their expertise and state-of-the-art patient care to community residents.
See the Pegasus Health website.
Pegasus Health offers primary and specialty care under one roof, including internal medicine, cardiology, endocrinology, geriatric and sports medicine. The practice's emphasis is on prevention, wellness and care management. UCF Pegasus Health is committed to evidence-based medicine and using the latest in innovation and technology to provide ever higher standards of patient quality and safety.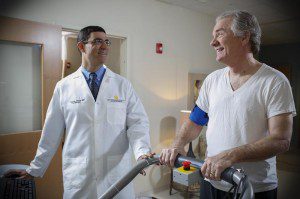 UCF Pegasus Health is located in a completely renovated 22,000-square-foot facility at 3400 Quadrangle Boulevard, on the corner of University and Quadrangle Boulevards, just blocks from the main UCF campus. The practice is even on the UCF Shuttle route, so university faculty and staff can visit the doctor and never lose their beloved parking space on campus.
UCF Pegasus Health is open to the entire community and treats patients ages 16 and up. It accepts most insurance programs.
Interested in being part of a new kind of medical practice? Come join us as we work together to impact the future of health care in Central Florida.
Apply for a Pegasus Health M.D. position
The UCF link allows you to search all available positions at the university by selecting the "Search Available Positions" link in the upper left column. In the College/Area section, please use the drop-down menu to find College of Medicine. Apply for a position by selecting "Create Application" in the upper left column. Select the appropriate type application for the position (i.e. Staff, A&P or Applicant Affirmation for Faculty).