Advising and Career Counseling

UCF COM has a comprehensive holistic advising program called UCF M.D. COMPASS - College of Medicine Physician Advising and Support System.  The Office of Student Affairs, under the direction of the Associate Dean for Students, has overall responsibility for this program, which includes advising, counseling and support in four major domains as illustrated in the graphic below -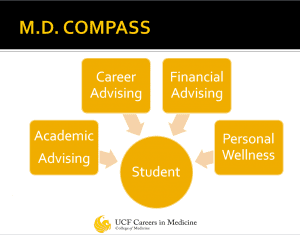 The Office of Student Affairs implements the M.D. COMPASS program in collaboration with Faculty Advisors, Specialty Advisors, and a number of key support services in the College of Medicine and at UCF.
Faculty Advisors' role in the M.D. COMPASS program is designed to offer both structure and flexibility; periodic structured "checkups" provide consistency to all students across the advising program, while advisors have the flexibility to meet with their advisees more often in groups or individually depending on the needs and preferences of their students.  The Office of Student Affairs provides resources to Faculty Advisors for advising and meeting the needs of students, including suggested discussion topics for meetings with advisees, templates for MATCH Checkups, sample student CV's, access to the AAMC's Careers in Medicine website (including advisor support materials, such as advising checklists), access to student academic performance, and other resources.
At UCF COM, we have two types of specialty advising:  Core Advisors and Specialty Advisors.  All students are required to have a Core Advisor, who may or may not be in their desired specialty; students may also choose an additional Specialty Advisor, particularly when they are pursuing a specialty not represented in pool of available Core Advisors (e.g., radiation oncology).  Core Advisors provide advisement, guidance, and support in three of the above domains – academic advising, career advising, and personal wellness, with a focus on career advising – through one-on-one interactions with their student advisees.
For a detailed description of the Advising and Career Counseling Program, please see the Student Handbook 2013-2014.
Components of the M.D. COMPASS Program
With any questions regarding the M.D. COMPASS Program please contact:
Marcy Verduin, M.D.
Associate Dean for Students
College of Medicine
6850 Lake Nona Blvd.
Suite 115
Orlando, FL 32827
Phone: 407.266.1353
Fax: 407.266.1399
Marcy.Verduin@ucf.edu
Manette Monroe, M.D.
Assistant Dean for Students
College of Medicine
6850 Lake Nona Blvd.
Suite 115
Orlando, FL 32827
Phone: 407.266.1353
Fax: 407.266.1399
Manette.Monroe@ucf.edu